ChromeOS for business
ChromeOS is a cloud-first operating system that provides employees with a modern experience and devices that stay fast, have built-in security, deploy quickly, and reduce total cost of ownership.
Benefits of ChromeOS for business

Built-in and Proactive Security
A low on-device data footprint with most files being stored in the cloud reduces threat of ransomware.

Remote Device Management
IT can manage devices remotely with the cloud-based Google Admin console.

Fast Deployment
ChromeOS devices deploy 76% faster than Windows 10*
Chrome Enterprise Upgrade
Take Your Business to the Next Level
Chrome Enterprise Upgrade unlocks the built-in business capabilities of ChromeOS devices for I.T. to secure, orchestrate and power the cloud workforce. Chromebook Enterprise combines the end user benefits of ChromeOS with the business capabilities of Chrome Enterprise Upgrade for IT to power the cloud workforce to work securely and effectively from anywhere.
Purchase Chrome Enterprise Upgrade or Chromebook Enterprise devices to unlock the built-in business capabilities of ChromeOS for IT to secure, manage and power cloud workforces.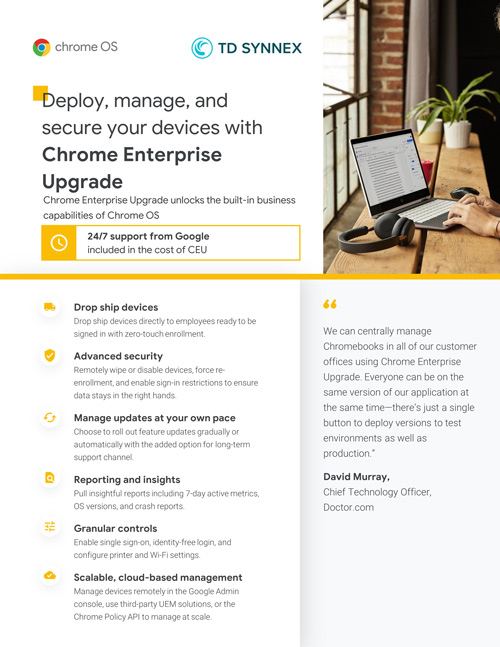 See the benefits of Chrome Enterprise Upgrade (CEU)
| Feature | Business Capabilities | ChromeOS Device with CEU | ChromeOS Device without CEU |
| --- | --- | --- | --- |
| Advanced security | Remotely wipe or disable devices, force re-enrollment, and enable sign-in restrictions to ensure data stays in the right hands | | |
| Manage updates at your own pace | Choose to roll out feature updates gradually or automatically with the added option for long-term support channel. | | |
| Granular controls | Enable single sign-on, identity-free login, and configure printer and Wi-Fi settings. | | |
| Scalable, cloud-based management | Manage devices remotely in the Google Admin console, use third-party UEM solutions, or the Chrome Policy API to manage at scale. | | |
| Reporting and insights | Pull insightful reports including 7-day active metrics, OS versions, and crash reports. | | |
| 24/7 support from Google | Free 24/7 IT admin support | | |
Free your business from ransomware
Secure your device fleet with ChromeOS
Take control of your security with built-in, intelligent security, granular policy controls, and automatic updates for continuous protection from ChromeOS. Safeguard users and data against ransomware, malware, and phishing threats with a read-only OS and encrypted devices.
With zero reported ransomware attacks, learn how ChromeOS keeps businesses secure.
Building sustainability with ChromeOS
Build a sustainable future with ChromeOS
ChromeOS supports Google's mission with an energy efficient operating system, sustainable hardware, and responsible partners.
Carbon free future
ChromeOS is a cloud first platform with features that increase energy efficiency, to become more sustainable over time, resulting in lower overall device carbon footprint.
Responsible energy conservation
ChromeOS devices consume as much as 46% less energy than comparable competitor devices.¹ ChromeOS' power management capabilities offer efficient charging and optimized device performance.
Minimum waste and device longevity
ChromeOS enables e-waste minimization through device sharing, durable components manufactured by OEMs, 8 years of OS updates, and ChromeOS Flex which modernizes PCs and Macs, making them up to 21% more energy efficient.²
Upgrade existing PCs and Macs with ChromeOS Flex.
ChromeOS Flex is a new version of ChromeOS allowing businesses to transform existing computers with ChromeOS Flex—the cloud-first, easy-to-manage, fast, and secure operating system. ChromeOS Flex is a sustainable way to try ChromeOS or expand your ChromeOS deployment.
ChromeOS deployment.
Proactive security: ChromeOS Flex safeguards from growing threats, including ransomware, malware, and employee errors.
Easy deployment and management: ChromeOS Flex can be rapidly deployed via USB or through a company network.
Fast, modern work experiences: Devices don't slow down over time. Background updates reduce device downtime and improve productivity.
Sustainable for businesses and the planet: Breathe new life into existing hardware to reduce e-waste and energy consumption.
To try ChromeOS Flex, all businesses need is a USB drive to install ChromeOS Flex on a device, or simply boot from the USB to try it out with no commitment necessary.
Businesses should enroll devices in Chrome Enterprise Upgrade to get enhanced device management capabilities.
To find out more info see this one pager or contact GoogleCan@tdsynnex.com.
Key Use Cases & Solutions
Kiosk & Digital Signage
Modernize your kiosk and signage solutions with ChromeOS
There's no room for error with your kiosks and digital signage. If screens freeze or fail to load the right content, it costs your employee time and customers. It's why leading brands are leaving slow, costly, and hard-to-manage traditional operating systems behind—and embracing the speed and cloud-based simplicity of ChromeOS and ChromeOS Flex.
With ChromeOS for Kiosk & ChromeOS Flex you can:
Reduce maintenance and increase reliability
Keep systems secure and data safe
Easily monitor and manage it all, remotely
Take a more sustainable route with reduced energy consumption and  by adding ChromeOS Flex to older Mac and PC devices to extend their lifespan and reduce waste
Key Use Cases & Solutions Continued
Contact Center
Secure and optimize your Contact Center with ChromeOS
Deploying ChromeOS enables contact centers to be cloud-first and agile while improving agent productivity, securing business data, and supporting IT teams with a stress-free device deployment and management experience.

Hardware
Choose from a broad range of form factors & specifications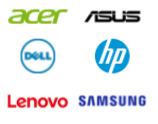 Peripherals
Verified Works with Chromebook headsets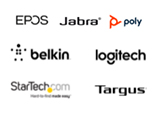 Chrome Enterprise Recommended Partners
For cloud-based Contact Centers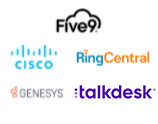 For virtualized Contact Centers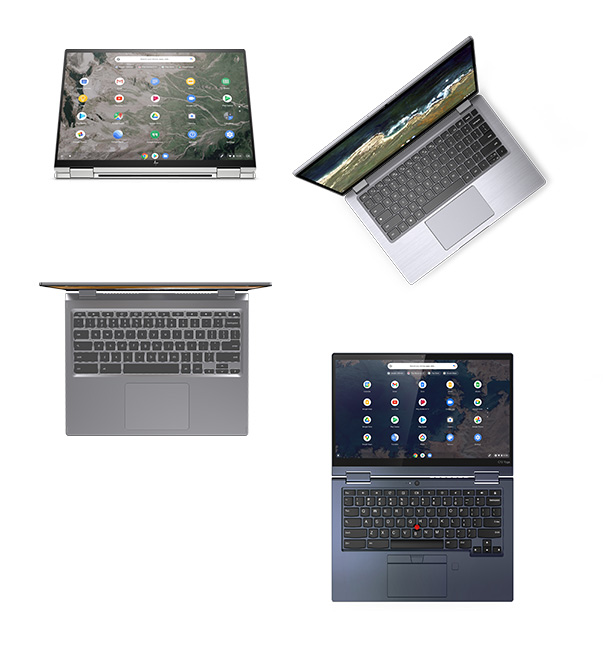 Choose the right ChromeOS device for your workforce
To be productive and do their best work, employees need the right tools for the job. Utilize our ChromeOS device selector to find the best ChromeOS device for each use case.
Make a few selections and we'll show you the best Chromebook, Chromebox, or Chromebase for your needs.
Talk to a ChromeOS expert