The business benefits of the cloud are well-established: lowered IT costs, increased flexibility and scalability, increased efficiency, improved security, and boosted performance.
Most small and medium-sized businesses (SMBs) are not in the position to move all storage, processing, and computing to the cloud. A complete migration from legacy systems to the cloud is complex and time-intensive. This is why many SMBs find a hybrid cloud environment to be ideal for their digital transformation journey.
A hybrid cloud environment includes public cloud services and on-premises, private cloud services. This provides SMBs the benefits of the public cloud (e.g., cost savings, scalability, and remote access to apps and data) and on-prem servers (e.g., improved security and greater control over data).
Additionally, a hybrid cloud environment enables businesses to take a phased approach to a more comprehensive move to the cloud. A phased approach allows organizations to make strategic decisions about what and when to move certain IT processes and workloads. For example, some businesses find it beneficial to migrate email from a local server to the cloud first. Then, as the company and users get more comfortable with the cloud services, they will then migrate more complex workloads.
SMB Guidelines for Cloud Adoption
When implementing a hybrid cloud ecosystem for an SMB, some helpful guidelines include:
Store your most sensitive data in private clouds or on-prem.
Data and workloads that don't require the highest level of security or frequent access are well-suited for the public cloud.
Business-critical apps and workloads should be integrated in cloud environments to improve efficiency and increase productivity.
Update and maintain a governance policy for your IT infrastructure to ensure consistency and standardization.
SMB Challenges to Cloud Adoption
Small and medium-sized businesses have unique struggles when adopting cloud services. SMBs that have already moved to cloud services report that the most significant challenges are lack of internal expertise, security, and compatibility.[1]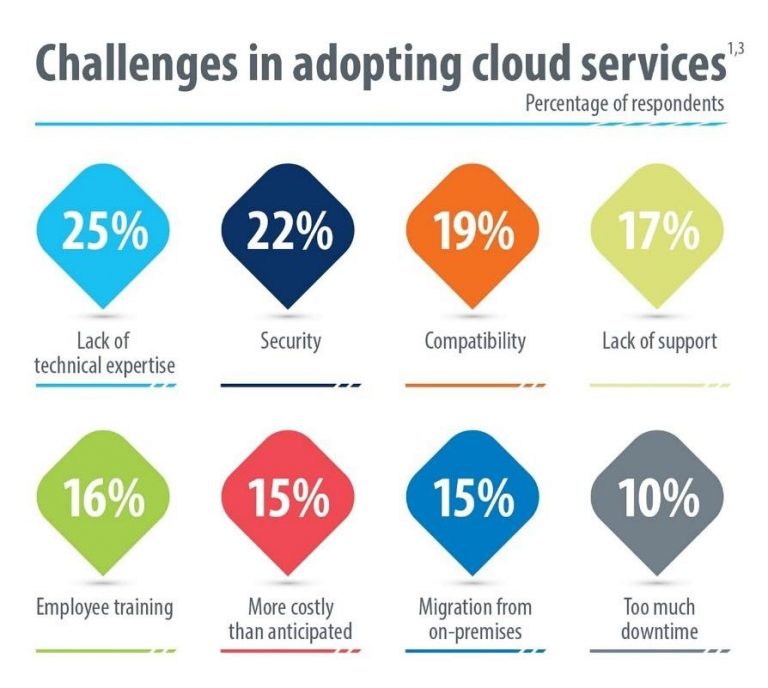 Figure 1: Survey responses to "Which of the following challenges has your company experienced while using hosted/cloud solutions?"
Source: Analysys Mason, "Small and medium-sized businesses: technology buying behaviour and channel preferences."
These challenges are compounded by the fact that SMBs have constrained IT resources. A survey of 3,000 SMBs found that 85% of small businesses do not have any full-time, internal employees dedicated to IT; medium-sized businesses average 3 IT employees.[1] In the same survey, SMBs indicated the need for on-site technology support from external technology partners as necessary to their future success.[1]
SMBs need a partner with an extensive scope of capabilities to assist them with their unique IT and infrastructure needs.
Your Opportunity as a Value-Added Reseller
IT spending by SMBs worldwide is estimated to reach $1.4 trillion in 2024. Spending on cloud solutions is expected to exceed that of on-premises options, but SMBs will continue to rely on on-premises hardware.[2]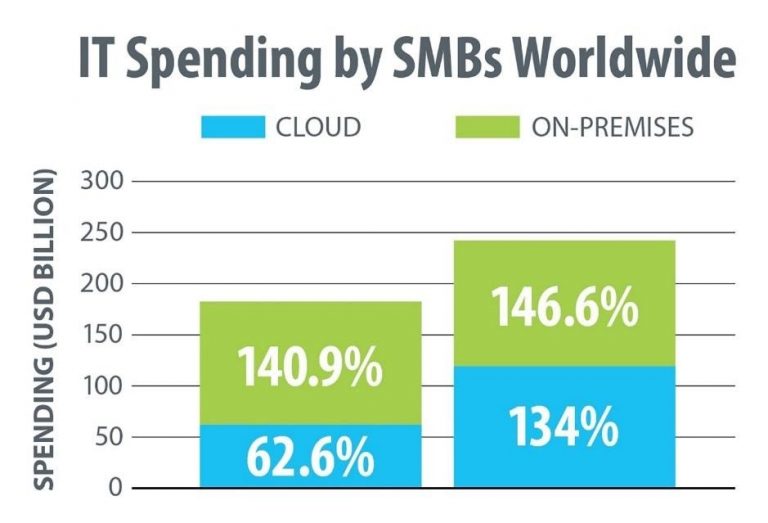 Figure 2: SMB spending on infrastructure, split by on-premises and cloud, worldwide, 2019 and 2024.
Source: Analysys Mason.
You can be the resource your small and medium-sized customers need. Simplifying the migration process and supporting customers with information and guidance will help bridge the gap in their internal resources while modernizing their business. The software, hardware, and support of SYNNEX and the best technology vendors, combined with your value-added services and expertise, will ensure your SMB customers' success.
Contact us at stellr@synnex.com to get started.
[1] Analysys Mason report: "Small and medium-sized businesses: technology buying behaviour and channel preferences"
[2] https://www.analysysmason.com/research/content/comments/smb-hybrid-environments