Whether dealing with education or government contracts, LG excels in delivering innovative solutions with our televisions and monitors (desktop, large format, LCD, plasma). As a leading manufacturer of flat-panels displays, we know our displays inside and out, making LG a complete provider of service, support, and technological refinements in response to your needs.
For education customers, LG continues to demonstrate its dedication to developing innovative, advanced educational-display solutions. Our vertical-market managers have the expertise to develop the right digital solution bundle to help educators communicate to and inspire their students.
Contact your SYNNEX sales representative for more information on LG's government reseller channel coverage as well as our discount programs for education, and local and state government agencies.
PCoIP technology
PCoIP technology is the result of a breakthrough in display compression for connecting desktops over existing, standard IP networks. PCoIP technology allows all enterprise desktops, from task workers to power users, to be centrally located and managed in the data center, while providing the remote user with an exceptional user experience. The PCoIP protocol compresses, encrypts, and encodes the entire computing experience at the data center and transmits it "pixels only" across any standard IP network to stateless PCoIP zero clients. Your data never leaves the data center. The PCoIP protocol is implemented in silicon for hardware accelerated performance, and in software in VMware View. It supports high resolution, full frame rate 3D graphics and HD media, multiple large displays, full USB peripheral connectivity, and high definition audio, all connected over the corporate LAN or WAN.
Click here to learn more about PCoIP technology.
Government
Featured Products
M Series
LG's M Series LCD Monitors are designed to maximize content quality and effect. Advertisements, information and broadcast video pop with digital brilliance as images remain clear at virtually any position (178˚ viewing angle) while in either portrait or landscape modes. Performance is delivered in a sleek and attractive package with slender bezels as thin as 29mm. Deliver a viewing experience that will impress expectations and stir the imagination with LG.
M Series Models: M3202C-BA, M3702C-BA, M4224C-BA, M4714C-BA, M5201C-BA.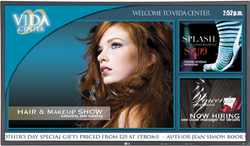 M4224C-BA 42 Class (42.0" Diagonal) LCD Widescreen HD Monitor
W2242TE & W1942TE
Go wide with LG's 42TE WIDESCREEN Monitor series.  They're designed with a remarkable 8,000:1 Digital Fine Contrast, 5ms response and 16.7 million colors.  As a result, your images are rendered with striking effect while text comes through sharp.  From web browsing to desktop publishing, the 42TE series can enhance productivity in professional environments.


M2242TE 22" Class (22.0" Diagonal) LCD Widescreen Monitor
Education
Network Monitors: Connect students and faculty with LG's cost-effective virtual desktop solution that networks multiple workstations to a single PC.

Classroom projectors: Our line of educational presentation products are optimized for use in a multitude of education environments: classrooms, auditoriums, and large meeting rooms.

Outside the classroom: Communicate information across your entire student body with an effective digital signage network for on-campus way finding, announcing scheduling and events, or as an emergency alert system.