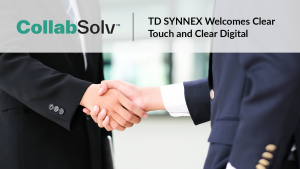 Some partnerships just seem like they're meant to be. That's the case with TD SYNNEX and our new partners, Clear Touch and Clear Digital. While we've done business together before, we're pleased to announce that our customers can add the Clear Touch and Clear Digital array of visual communication and collaboration products to our line card. 
Before we go too far, let's make sure the difference between Clear Touch and Clear Digital is, well, clear. Any product that includes interaction (panels and accessories) comes under the Clear Touch moniker. Any noninteractive panels, like digital signage and video walls, fall under the Clear Digital line. Not that names matter, because all of the products are available to us. What's important is that an entire catalog of amazing products is now part of the TD SYNNEX ecosystem. Here, we highlight a few of our favorite products that would be an asset to any facility. 
Award-winning products
If you're not familiar with the impressive line of Clear Touch and Clear Digital products, it's worth a trip to the websites to familiarize yourself with them. With a long-standing reputation for quality, Clear Touch products notched wins in "best of" lists this year at both InfoComm and ISTE Live.
The 8086MAX won "Best of Show" in July 2022 at ISTE Live, the trade show of the International Society for Technology in Education. The 8086MAX is an interactive 4K panel with magnetic blackboards and an enhanced soundbar. You can write anywhere on this interactive display using liquid chalk. The 8086MAX is the first of its kind in the U.S., and it sets a new bar for education and business communication.
Clear also has a catalog of both interactive and noninteractive display options. The Evo was the darling of digital displays in 2020, winning four awards that you can read about here.
If you're in the education space, you especially need to check out what Clear Touch has to offer. Have you heard of the FUZE cart? It, too, won an innovation award at ISTE. Under the banner of Clear Power, the FUZE cart is a solution driven by feedback from the very people who work in the education space: teachers. The cart can hold up to 30 devices plus a charging station, making it very convenient and practical. 
Differentiators
We've seen a slew of great visual communication products lately. So what makes Clear worth knowing about? 
Obviously, being one of the vendors in the vast TD SYNNEX catalog gives Clear Touch a huge advantage for a customer preferring to put a single purchase order together. The breadth of the exposure for Clear Touch/Digital is exciting for purchasers, especially as TD SYNNEX expands its footprint in the AV communication space. Being able to leverage the scale of TD SYNNEX's public sector connections as well as state and local business is a sure path to continued growth for Clear Touch. 
As for the products themselves, Brad Browning, Clear Touch's director of channels, shared his thoughts with us recently about what he thinks makes the difference for people looking at collaboration products: 
"There are a lot of interactive flat panels on the market. One of the things that differentiates our line from others is the 8086Max. It's a 14-foot, 86-inch interactive panel with two 4-foot chalkboards on each side. You can write across the entire thing with liquid chalk and it will wipe off. That's our hottest product right now. It's new, no one has anything like it in the U.S. market."
But Clear Touch is different in the market in other important ways. Notably, its interactive panels come with free software: Snowflake (app suite for education touch screen panels), Chorus (formerly Canvas, for keeping presentations organized), Collage (casting software) and Command (IT device management) all come bundled with the purchase of a panel. There are no additional fees associated with data storage or ongoing subscriptions — the software is offered free for the life of the panel. 
As if that's not enough, Clear Touch interactive panels include a wall mount bracket and the Wi-Fi module.
TD SYNNEX + Clear Touch Advantage
Clear Touch is a pretty amazing add to the already amazing list of products and services TD SYNNEX provides to its partners. No wonder there is so much excitement around this news. Prior to the partnership, Clear Touch sold to its customers directly. Now, as Clear Touch's only distributor, the partners can accommodate every purchasing situation for literally any buyer. 
TD SYNNEX ColabSolv is dedicated to supporting our valued partners in expanding their opportunities in digital signage, UCC and beyond. Reach out to us here for more information on how to leverage opportunities and maximize your value to your customers.