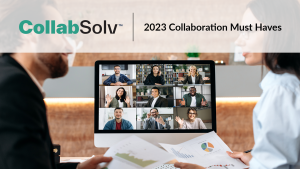 What will 2023 bring? 
And just like that, 2022 has come to a close. Time seemed to fly by in 2022, compared to the last few years, as we all tried to get back to some sort of normalcy. Live events in every industry boosted spirits. Conferences reconvened with gusto. A global homecoming was happening. At TD SYNNEX, we definitely experienced this as we engaged in face-to-face conversations about technical issues, business issues and our everyday lives. It's been great to be back with everyone. 
Over the past year, questions about what the future will look like for businesses involved in IT and AV infrastructure, design and installation have been answered. The pandemic forced some rethinking about the way we communicate, and it put improvements into hyperdrive and brought some new demands from consumers. It isn't that the end game has changed so much as the way to get there. To deliver the collaborative experience workers have come to expect, we're starting to understand that the tools must be portable, scalable and sustainable. 
There's no doubt that 2023 will be the year of adapting to the collaboration requirements of the mobile workforce. AV and IT are solidly codependent technologies; we literally cannot have one without the other. Security and standards will become higher priorities because, as system interoperability increases, exposure also increases for companies and institutions, operationally and financially. New workstreams will require fluidity and flexibility. Many systems will need to be implemented on a very large scale, demanding standardization. 
Here's what may be on the horizon for collaboration projects in the coming year…
Reinvention
We've been talking about hybrid spaces for a while. Hybrid spaces, huddle spaces and general upgrades are happening everywhere. Employee retention is a key driver. Studies have indicated that a substantial number of workers are not happy with the audio and video quality they have at home and this can make them feel like they're on the sidelines during meetings. An ongoing challenge is designing a system that takes advantage of new and better technologies without having to entirely scrap the current system. 
To retain workers, industries will continue to put user experience at the top of the priority list as they refresh collaboration spaces and systems. The term "meeting equity" expresses the desire of participants to feel like they're meeting in the same space no matter where they are. 
There's a continuation of reinvention in every space, keeping pace with consumer expectations using a human-centered approach. Digital signage will become more and more important as it facilitates the use of artificial intelligence to meet broader expectations. 
Integrators will need to serve, solve, simplify and secure
As systems become "smarter," they also become more complex … and consequently, more vulnerable. So, the need for increased attention to network security takes a top spot in priorities. Along with providing customers bespoke services and solutions, guarding against intrusions is mandatory. Yet the picture is incomplete if the user experience becomes clunky, unreliable or confusing. Simplification of use goes hand in hand with adopting cutting-edge technologies and making sure the system is secure. 
Solutions providers can hit the easy button
Remember the red "easy" button that Staples rolled out with its brilliant marketing campaign back in 2005? The button is still relevant, and it's more important than ever that collaborative workspaces are easy to use with an intuitive design. But there's another critical group that needs some help navigating integration design and installation challenges moving forward — the people tasked with making disparate systems work. Now more than ever, the complexity of what's required for a knockout collaboration solution depends on a highly complex infrastructure, design and installation. The good news is that technological advances are abundant. The best news is that the merger between Tech Data and SYNNEX Corporation in September 2021 put multiple complexities under one roof, and this serves to simplify things in a big way for virtually everyone working in the collaboration space. 
To help our partners navigate the complex collaboration environment, TD SYNNEX appointed Anna Wrice to a new product business manager position. Hers is a nonvendor-specific expert role, solely focused on collaboration spaces to make things easier for integrators while enhancing the quality of the systems. There are limitless products available due to our expanded line card. Couple that with our ability to come in at the front of any project and support it until the very end, including providing financing options, and you have an ecosystem for collaboration solutions that should make 2023 your best year yet. Be sure to reach out to Anna for help!
Wouldn't it be nice? 
As we've witnessed, AV/IT vendors have been keen to ramp up and provide solutions that will make things easier for customers. TD SYNNEX is dedicated to making things easier for the providers themselves, along with our partners. Bringing AV, IT and financing under one roof simplify everything for collaboration installations and upgrades, regardless of where you are in the solutions equation. If you're an AV expert, we can help you with the IT side of things. If you're more digital signage knowledgeable or only familiar with the way cloud-based applications work, we can help bridge any gaps. There are so many reasons to consult with us, and as a large and well-established distributor and solutions aggregator, we have a breadth of expertise in-house to ensure your success.
Supply chain challenges ease a bit but aren't eliminated
In the coming year, we are all likely to still be dealing with supply chain issues. Verticals are trying to drive efficiency as they face headwinds in the market. Technology is a good supporter of these efforts, but the problems customers are facing are not something you can just point and click to solve. That's where a consultative solutions provider becomes especially beneficial. TD SYNNEX can mitigate some of the warehouse headaches associated with supply issues. It's just another example of our comprehensive ecosystem due to the merger of these two very complementary companies. 
The bottom line is we've got your back wherever you're headed in 2023. 
Here's wishing you a successful and prosperous new year! 
 TD SYNNEX CollabSolv is dedicated to supporting our valued partners in expanding their opportunities in digital signage, UCC and beyond. Reach out to us here for more information on how to leverage opportunities and maximize your value to your customers.