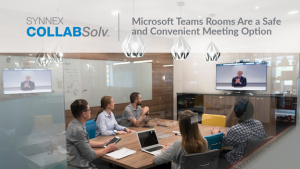 It appears that we are beginning to return to some kind of normalcy after two years of dealing with COVID-19 restrictions. The workforce is returning to the office, bringing a new urgency to evaluate current meeting space technologies and collaboration tools. In the new environment, there is one constant: Meetings will have to accommodate both in-person and virtual participants. It is the dawn of the "anywhere" workforce.
Providing teams with the ability to collaborate reliably and easily is a priority. Outdated meeting and collaboration systems run the risk of providing poor cross-platform performance, poor audio or poor video quality. Inconsistencies in platform compatibility plague unified collaboration and those inconsistencies usually require a lot of IT admin time to sort out. These issues cause meeting disruptions and frustrations for the participants. The meeting space shortcomings in the office space used to be tolerable — much of the workforce didn't experience the hybrid meeting environment with all of its challenges and the ones that did experience them learned to tolerate the disruptions. Not anymore. The "anywhere" workforce is expecting a seamless experience no matter where they are. 
With so many conferencing configurations available, it's easy to be overwhelmed by the options when putting a system together. Hardware and platforms are plentiful; making decisions about what is best for your company can be confusing. But here's an option: If you're looking for an all-in-one solution, and you're already using other Microsoft tools, you may want to consider a Microsoft Teams Rooms solution. 
What does Microsoft Teams Rooms provide?
Ease of Use 
Because the user interface is the same in each Microsoft Teams Room (MTR), it's easy to learn how to use the room once. No more having to figure out what to do in each meeting room. The ability to configure the system across the entire organization is a huge plus. 
If you're concerned about connecting with third-party meeting platforms, you'll be happy to know that MTR has a "Direct Guest Join" feature that allows easy connection from another platform (Zoom, Webex, etc.). 
Are you more of an Apple person? The ability to join a meeting as a Mac user is just as easy. The MTR is a complete system, so all that a Mac user would need to do is join via the web application or the desktop Teams app if they choose. Meeting invitations will include instructions and links. 
If your organization already uses many tools that Microsoft provides in Windows and the cloud, meeting organizers and participants will appreciate the calendar integrations, one-touch join options and easy access to your Microsoft 365 documents. Another huge advantage that a Microsoft Teams room brings is that it interfaces seamlessly with other tools the workforce depends on.  
Flexibility 
Microsoft Teams Rooms scale to any space size. There are many device options, too. Many of the leading AV hardware partners provide certified products for use in the rooms. And according to Microsoft, Teams Rooms are available in different device types including modularized kits, compact and integrated devices and complete all-in-one solutions.
Having a system that supports both cross-platform availability and BYOD participation is critically important. Microsoft has provided this in the Teams Rooms design. 
Security and Management
Microsoft-certified devices are designed for out-of-the-box security; if you stay current with updates, your system should be secure. You can manage your rooms with one admin center. Microsoft Teams Rooms provide AI-driven management tools to help you do things like optimize space, proactively monitor your device security configuration and make updates.
Consistency of Experience
One of the major reasons for providing dedicated devices, such as monitors and microphones, is the consistency in output the meeting space provides. While BYOD seems like an appealing option for all meetings, it has some limitations. To bring their own device each time, users must know how to therefore launch a meeting from that device. That device will affect the experience the user has during the meeting. The audio may be garbled; the picture may not be ideal. Security of the device itself is also an important consideration. 
We're Here to Help You
Keep in mind, Microsoft Teams Rooms are but one of many options available for today's workforce collaboration. TD SYNNEX created CollabSolv to help you figure out which solution is best for your organization. Our design experts and vast partner network can make this process smooth and efficient. We want to help customers make their complex voice, cloud and video projects simple, cohesive and profitable. Contact us today.
Reach out to us here for more information.