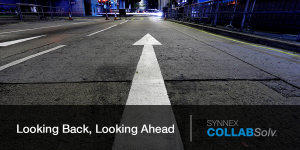 Most of us will not easily forget 2021. It was the COVID-19 encore we had all hoped to skip. Let's look at how the year wraps up, find the bright spots and explore how we might use the lessons we learned to improve collaboration in 2022. 
Looking Back: 2021 
Integration and collaboration have been the mainstays of 2021.
Convergence made it to the top of the to-do list. Literally everyone wanted and needed to communicate in a remote manner — either with their own people or with customers around the world. While some of the workforce dribbled back into offices, most of the U.S. remained in an altered state. In-person conferences made attempts to bridge the remote-collaboration gap, but just when we thought we were going to be back into a "normal" routine, the delta variant hit like a ton of bricks and there we were again, taking pains to merely have available product, reach our audiences, staff our businesses and ramp up for the return to in-person collaboration. It became obvious that "normal" was not going to look anything like it did when we packed up our stuff in 2020 and turned to UC solutions for help. 
While much of the business world struggled to make payroll in 2021, there were bright spots. AV and IT were propelled to the forefront. Mobile, cloud and their ability to help us integrate every environment to enhance customers' communication experiences have become a necessity, not a nice-to-have. Network security followed suit, bringing both challenges and opportunities as a critical component for any UC solution.
But the biggest effect COVID-19 has had on the way we think of unified communication is not about the technology, it's about the user. Repeat: The user. The user. The user. 
Users have changed. Their expectations have changed. Their collective experience with collaboration has changed, which means that what they expect UC technology to do has ramped up. They now have experience with the good, the bad, and yes, the ugly of remote collaboration and they want the good. They want an absolutely seamless communication environment that simulates reality when things get back to the new normal. 
Looking Ahead: 2022
It's time to make some significant changes.
The past two years have given us a unique opportunity to reset expectations and live up to new ones. We are challenged to redefine, renew and upgrade existing UC solutions. They must be holistic, dynamic and secure. The pandemic has taught us that nothing can be taken for granted and we need to keep an eye on the ever-evolving needs of the user. For 2022, consider the following: 
   

Reassess your business model.
Practically speaking, running your business is a continual juggling act. How do you keep the revenue stream flowing, hurry up with the solutions you're asked to provide and innovate at the same time? The answer lies in your approach. It may be time to scrutinize how you are conducting business, what elements you're including and what you're inadvertently leaving out. 
Take a step back and empathize with your users. Re-evaluate your customer experience goals. What do you see that is good and what needs improvement? You have the opportunity of a lifetime to really stand out in the crowd. Explore ways you can offer more holistic, flexible, and secure communication environments. 
   

Embrace change, challenge the norms, create new solutions — together. 
If you haven't embraced this new landscape and are just doing business as usual, you're missing out. Break the mold and question all of your "we've always done it this way" mantras. Listen to your customers and solicit feedback to make sure the solution you are providing is what is actually needed — not by talking about the products you'll install but by reviewing the needs and the solutions. Make a prototype for them to try. Iterate. Be transparent. Try new things. 
   

User experience is number one. Understand the use case. 
It takes a little time to delve into use-case scenarios, but the effort pays back incredible dividends. Try to understand what your customers hope to accomplish with their systems and what their priorities are. Are they in a hurry? They usually say they are. Are they looking for the cheapest way to fix the problem? That also happens, until the pros and cons are laid out. Be transparent and be sure you empower your customer with knowledge along the way. Educated customers make the best customers. Give them options and make sure they understand how the system you advocate provides the best solution for their interests. 
   

It's a hybrid world.
We've turned the corner on blended solutions. Lines are blurred between real and virtual. The digital world and the physical world are intertwined. This hybrid world requires hybrid solutions. It's happening in all areas where people gather to collaborate: huddle rooms, offices, lecture halls, classrooms … the list goes on. 
Again, it isn't about simply saying the words and offering a technically hybrid option. The emphasis is on the actual user experience. More users are comfortable with remote communication. Travel budgets will most likely stay slim for the foreseeable future. The virtual experience will need to closely mimic the in-person one. Anyone who has ever been on the remote side of a hybrid videoconference meeting can tell you that the experience can be challenging. Bringing the same experience to all users is now a must-have, not something on a wish list. 
   

Take advantage of the spotlight on integrated solutions.
There's never been a better time to be in the unified communication market. Once you take the time to understand your users and how you will retool your business to meet their needs, take advantage of their recognized reliance on AV services and products. 
Make sure your messaging is addressing the way you are solving user needs in a secure, seamless way. Bring in other revenue streams by adding on to what you already provide or starting a new line. 
And remember, you don't have to figure it out alone. SYNNEX aims to make your complex voice, cloud, and video projects simple, cohesive, and lucrative by working with you. SYNNEX COLLABSolv unites the industry's top AV, IT, CE, cloud, mobile and network security technologies essential to building the integrated solutions your customers need. Let's work together.