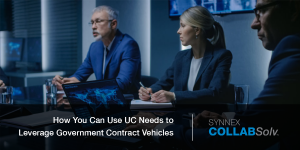 It's no big secret that technology continues to advance at warp speed and with increasing complexity. While new technologies present opportunities that are both endless and obviously advantageous, they can also seem like they're out of reach or too complex to implement. Challenges abound; budgets and bureaucracy can get in the way of the innovation needed to bring about the change necessary to keep pace with today's communication landscape. Enterprise IT infrastructures are often bandaged together, creating enormous challenges for finding ways to migrate to the cloud or provide holistic and unified communications (UC) throughout the organization — something that's an absolute requirement for future business models. The needs of end users to be able to seamlessly collaborate and communicate from anywhere in the world must be balanced with the need of the organization to provide a smooth, secure and seamless infrastructure. 
IT infrastructure is a hot topic in the United States. In particular, federal, state and municipal governments have substantial need for UC upgrades. (We're describing UC as the integration of enterprise communication services such as chat, VoIP, email and videoconferencing.) The government market opportunity for communications solutions in the United States is large and ever-growing, with an estimated 21 million contact center and unified communications seats. At least 8 million seats are expected to migrate to the cloud in the next three years. Cloud-based unified communications (UC) will increase significantly as government agencies look to control costs, move away from aging telecommunications equipment and improve collaboration and communication across a mobile workforce.
Governments also have significant budgets for UC upgrades. They are increasingly aware of the benefits of unifying communication; for providers, it's a matter of capitalizing on the opportunities. But, as stated above, there are some challenges. Read along for some tips on navigating them. 
Governments' Shift to the Cloud
This is a perfect time to begin offering cloud solutions to the public space. Government agencies are often spread out over multiple locations. On-premise UC solutions will not give a level of access that agencies need to provide their workforce with secure and continuous communication. Public agencies have to consider not just their internal communications, but their responsibility to the public with how they handle sensitive data. Cloud-based UC systems were created with this type of collaboration in mind. The upgrade is an obvious choice. If you're in the UC provider space, you have a chance to capitalize on this market. Government contracts can provide a consistent and reliable revenue stream when an organization consistently and reliably executes its contractual obligation. You simply need to understand and follow the rules.
What Is a Government Contract Vehicle? 
Government agencies have developed, over time, specific ways to purchase equipment and services. They rely on established purchasing methods, or contract vehicles. In their own words, the "GSA Schedule (also referred to as Multiple Award Schedule (MAS) and Federal Supply Schedule) is a long-term governmentwide contract with commercial firms providing federal, state, and local government buyers access to more than 11 million commercial supplies (products) and services at volume discount pricing." 
Think of the "vehicle" as a ticket that allows you entry into the government's purchasing arena. The ticket allows you to have a relationship with the agency, opening up opportunity to do business with it. Federal contract vehicles provide a level playing field and a common language so that all bidders or providers meet the same metrics. The process is complex and there are many requirements: FSD.gov and SAM.gov provide a small window into what's involved. 
How the Federal Government Purchases Goods and Services
While there are numerous avenues available to do business with the government, it's important to note that details matter, regardless of the method you choose. Briefly, if you want to do business within the federal IT space, there are a few common contract vehicles. GSA (General Services Administration) Schedule MAS (multiple award) contracts, ID/IQ (indefinite delivery, indefinite quantity) contracts and GWACs (government-wide acquisition contracts) are the most frequently used, but there are others.  
While you probably have a chance to find work using GWACs or ID/IQ contracts, most of the federal government uses a particular GSA schedule specifically for IT purchases: MAS Information Technology. Cursory research on the GSA Schedule website will give you some idea of the complexity of doing business with the government. It's worth exploring this revenue stream, but going it alone is daunting unless you have experience doing business with the government or you have hired full-time staff to untangle the process. GSA also offers education for business owners and has many helpful guides and courses.
By the way, before you can do business with any federal, state or local government, you need to understand how that agency works because they are not all the same. Your best bet may be to get in touch with an organization that's dealt with public agencies — they've likely done much of the prep work and have probably made inroads into the complex purchasing opportunity. Figuring out where your offerings fit into the agency is critical, because each contract vehicle is tailored to meet specific needs. For instance, smaller businesses would benefit from partnering with a larger entity, because this entity has done a lot of the groundwork of getting that "ticket." 
How to Provide UC Services to Government Entities
The challenge for solutions providers is figuring out the complex web of requirements to be able to land a contract with an agency. The federal government lists projects and requests proposals and quotes, but it takes a lot of work to navigate the government purchasing path on your own. And while you can go it alone, many organizations don't have the time, budget or expertise to work their way through the system. Contracting with the government must be handled according to its rigid standards and rules. There is no informal anything. If you do decide to sell to the government, you'll need to invest the time up front to understand how that government works, and you'll need to be able to maintain that level of contract engagement.
Your next option is to find a consultant who will help you navigate the complexity. Large UC solutions providers who are already on the GSA Schedule may offer partnering and subcontracting opportunities to smaller companies. While anyone can sign up for government contracts, the sheer complexity makes it very daunting for many organizations. In these cases, many smaller businesses team up with companies who have already done the hard work. 
How TD SYNNEX Supports Resellers with Contract Vehicles
Enter GovSolv, our Public Sector Program that encompasses Federal Government, State/Local Government, Education (K-20) and Healthcare programs. GovSolv brings together a host of tools and solutions to help resellers compete in these high-growth markets, simplifying the complex government bidding process. TD SYNNEX offers reseller partners access to SLED (State, Local and Education) contracts such as NCPA (National Cooperative Purchasing Alliance) as part of our overall GovSolv program. Contact govsolv@synnex.com for more information and support.