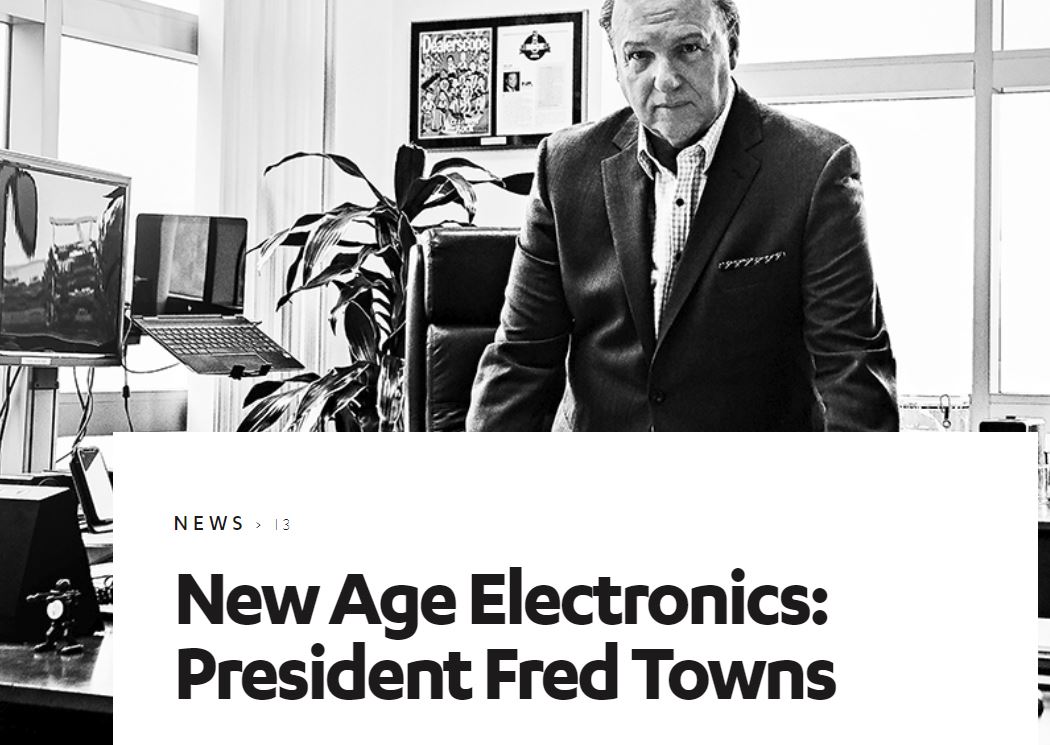 Jul 22, 2019
New Age Electronics has a unique position in the consumer tech industry. It sits at the cross section of manufacturers and retailers with a bird's eye view of the latest trends on both sides of the equation. Leading this top distributor is Fred Towns, the long-time consumer tech executive who has been president of New Age Electronics Inc. and Jack of All Games at SYNNEX Corp. since 2011. Previously he held various executive positions with the company and was responsible for sales, marketing and operations supporting distribution, logistics and product recovery. He also ran the company's web-based training tools and e-commerce initiatives to better support vendors and retailers within the consumer technology channel.
Towns worked to expand distribution partnerships with Kodak and Panasonic, signing contracts with other vendors such as Sharp and Samsung. He has creatively designed and implemented new channel strategies, including executing dealer agreements polices, converting small direct dealers to distribution partners and creating online programs for internal and external training. New Age Electronics is also known for its Retail Dealer Summit, a two-day event that includes product showcases, educational sessions, keynote speakers, networking opportunities with top retailers and vendors, and presentations by industry experts. Prior to that, he was SVP with Panasonic, joining the tech giant in 1984.
He serves as vice chair, along with IBM's Bridget Karlin, of CTA's Executive Board. He also continues to serve on CTA's Board of Industry Leaders. In addition, he is dinner chair of the Anti-Defamation League. Beyond technology, Towns is also a talented musician. He has played guitar with Don Felder from the Eagles at CES in 2014 and is also a former disc jockey who performed across Maryland and Washington, D.C. He says his love of music led him to the consumer technology industry and that his children keep him exposed to the most current music. i3 recently sat down with Towns as he looked into his proverbial crystal ball to share his optimistic views on 8K and 5G, and what product categories will be hot for this holiday season.
What is your business model?
If you look at the model in distribution, there are two mindsets. One is to have availability and a price for people that are not buying either direct from manufacturers or they need to supplement what they buy from the manufacturer. In our case, we are a little different. We look at distribution as an extension of the manufacturer, so we go in with roadmaps and presentations about which direction the retailer is going and build individual forecasts by customer. We look at what our customers need unless it's a small customer where we just keep safety inventory for them. Overall, we look at the customer base and plan out their business model based on a true retail calendar and then build it out. Today, it's about having a good supply when you need it.
How does New Age differentiate itself?
In many ways, but one thing we have is a program called "build a box." When you think about what a consumer looks for when they make a purchase, we look at it in a different way than a normal distributor would. We look at who the end user is because we are servicing a retail store and their customers. Then we build different offerings to enable a retailer to come up with a solution that is not just the product itself but what enables people to have a good experience when they open up that product. For example, does it have the accessories they need to get a great experience? If you look at the transformation of homes, there are many different controls, so we work with our retailers to build a solution right out of the box. You don't want a customer frustrated when they get home and a product won't work. We want them to be able to adjust their lighting, watch a movie on TV and just say "lower or raise the lights or music" to do so. We work with the vendors and the retailer to find the best solution. In many cases we build shippers bundles that are a complete solution placed on the retail floor. When a customer comes in to shop for a product, the other items that might be necessary are on that same shipper. We are building that bundle to bring better value for the retailer and a better retail experience for the shopper.
Where do you see new opportunities?
The convergence of goods coming together. So, if you said, "I am leaving my house today, what is more important – my watch or my phone?" Everybody would say their phone. Because that device is always with you and lets you bring your music, video and other things with you, and people want solutions for that. If I am going to enjoy music, I'm going to want earbuds or headphones to go along with it. It's an enabler for someone to say with the power of what I have in my hand, whether a phone, tablet or PC, I can control everything that I enjoy for business, entertainment, lifestyle and information. We are trying to take that ecosystem as a bridge where all of the products are starting to interconnect, including smart car features like starting the car, to garage door openers and sensors that make your lights come on as you approach your driveway. It's all interconnecting. Our goal is to look at what is the best in class product that gives the best experience and offer different price offerings to the retailer, so you have an entry point and a truly high-end step-up point.
It's early, but what are your thoughts on 8K?
People are just starting to realize the benefits of 4K, and content is the biggest issue. There is always going to be a bleeding edge customer that wants a product that is current or where the industry is growing. 8K is going to bring that solution. But it does require a change in how it is recorded and how it is shared. Sports is where it is really going to be interesting. I was watching the U.S. Open and you can see the ball coming off the club and the blades of grass and the sand flying. The image that you see is almost like you are there. There is a place for 8K, and the solutions will catch up to it. As we have much better content more readily accessible, those technologies will be embraced faster. But it's the job of the retailer to tell those stories and paint the picture for what you are going to want to get.
How is the tariff situation effecting you?
The biggest effect is on the IT tech side. We started to see some of the changes that were occurring with components and devices that tie to the IT products that we sell like computers. That impact is really starting to show up. In some cases, some of the factories were able to subsidize or offset some of the balance by adjusting their cost model. But as the tariffs increase up to the full 25%, there are some categories that were not necessarily hit in the first wave of tariffs. And they will be vulnerable should it continue to go as the path was announced. It's totally volatile and 25% is a big increase in cost when you look at a $400 or $500 item. The worry is whether the consumer will be willing to pay for that. The challenge is it could affect the market because embracing new technology is going to have a cost that is going to be much greater and it might slow it down. Some people say that the real leading-edge customer is not necessarily worried about how much they are going to pay, they just want the greatest technology and will always be there. But with the next wave at a 25% tariff – are they going to say, "Do I need it right now or should I wait?" The premise of the tariffs was to try and provide some level of control and protection especially for intellectual property. Unfortunately, a lot of the technology in the states has been captured by other countries and used for their benefit. And it has hurt the people that have put the R&D work into the product. Obviously if we can get these things ironed out, that will be a benefit to not have these tariffs and get more respect for international property.
What will be hot for the 2019 holiday season?
A The home automation area is going to be very exciting because a lot of it is do-it-yourself. You plug it in, you scan an application and most people are fairly comfortable now working on their smart device or their PC. But the next wave is when you can share that with the rest of the family. How do you get your parents or the elderly to embrace technologies like a voice assistant? That's a game changer, turning on lights so that you don't have to get up to lower the temperature or order a pizza. What will be the enabler from smart door locks to many other things – automation is going to make it easier and will still be a hot category for the holidays. Before you had to make quite an investment to make a system like that work and it didn't interface with the other devices in the home. Now you can even connect your washing machine. I don't think it will make us lazier, it will make us smarter in how we use our time.
The other part that is important is the world of electronic transportation. The car industry is making a big impact and putting batteries in cars and making hybrid models or full Tesla model cars – in that case, it's not putting out any emissions. There will be e-devices on the road – scooters, carts and bicycles to take you the last few miles. You might park your car at a lot that has a charging station but then jump on your scooter to your office. That is going to be a big game changer and you will see a lot of that during the holiday. We are working with Segway, a huge name in technology.
How is the role of women changing in the industry?
I started to notice that my customers were more female-centric, my vendor community was more female-centric, and we were opening up new channels to stores like Kohls where the female shopper was making the decisions. I said we have to get more females on the board. I have to give 100% credit to CTA. It is more advanced than other companies in being sensitive to this issue. CTA has done a fabulous job of representing what the standard should be and a forward look at what the direction should be. It makes me proud to help contribute to change that model and suggest people that would bring value to help us to continue to relect our changing customer base. The female shopper is super powerful now.
What is Jack of All Games?
A Jack of All Games is a company that we acquired some years back that was also a distributor in gaming. The traditional gaming business is very sophisticated. Sony was the first to embrace VR out of the gate. Now other companies on the console side that Jack of All Games has been focused on – we work with them providing software and hardware to the retail community. The computer companies have all jumped into the gaming side so just about every brand of computers that we sell have gaming options and often professional teams. It is a huge and highly competitive business in regard to the players. They can win purses up to $1 million in esports. And it's not just kids that are packing stadiums. Jack of All Games brought us into the gaming world, and we continue to fortify that environment by working with all of the PC companies and the peripheral companies. Gaming is a very busy area for us.
How are you helping retailers prepare for 5G?
The SYNNEX side of the company is deeper into 5G on the telephony side. The beneit for us is that we don't have to broker new relationships, we can tie into those areas. On the consumer side we are looking at brands that will interact with 5G and starting to say, this is where we need training and education to bring our staff up to speed. The biggest problem will be getting the antennas installed. It's a massive amount of work but the beneits will be huge as people get video, audio and streaming and all of the things that will be available. The manufacturers are excited about it.
Where do you see the industry in 10 years?
Someone gave the greatest analogy about envisioning the future. They said, "Go watch a Star Trek movie." You saw gesturing, heard voice commands – "Beam me up, Scotty" – and navigation commands. Obviously, we are not beaming people up yet, but automation and robotics came out of that. I think you are going to see a very strong community of businesses that will be automated. Battery life and being able to charge over the air is going to enable devices to be self-charged. Devices potentially will be chipped or implanted in people. But if somebody has a problem – especially for medical reasons – they could have an embedded chip to monitor them and improve their quality of life. That is going to be huge. Even the way that medicine will be delivered will be radically changed and our industry will be part of it. It is going to change so radically that expectations are going to be greater. The speed is going to be much better. When you look at the intelligence of the computer systems today, IBM has this incredible computer called Watson that uses AI to crunch massive amounts of data to help businesses make more efficient decisions. Our technology is building our future.
By Cindy Loffler Stevens
(Originally published on Consumer Technology Association's  i3 website)