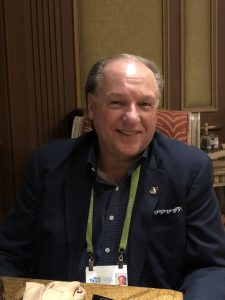 New Age Electronics President Fred Towns said at a multi-topic sit-down during CES 2018 that the run-up to Christmas foreshadowed a stellar holiday sales season. "The consumer came out and was ready to shop. The stock market performed well. The job market was in a good position. Unemployment's very low…. That confidence was built into the mindsets of consumers. We knew the holiday was going to be big," he said, citing voice and other home control-related devices that had come into their own in the marketplace in the months prior as factors in the selling season's success.
Other categories touched by consumer favor, he said, included mesh network-related products, which enable strong signals. They were more visible, because "you need a great router; a robust network is key now" for consumers. "It's like if you buy a high-performance car – you have to put good gas in it."
Towns said he is bullish on the potential of 5G technology and its capacity for speeding up content delivery "when that's needed," analogizing its addition to "adding turbo systems" in cars. "We have to start to look at the way people use products in their homes. How long are you willing to wait for a movie? In past, you'd set it up to download when you went to bed. 5G is like adding that turbo when you need it."
On the issue of the FCC scrapping net neutrality rules, Towns said it could potentially be a concern for smaller retailers, "but it could also be an opportunity," expressing the view that business models will be created to help smaller companies along in whatever scenario presents itself.
The scene as it's set for retailers for the progression through 2018, said Towns, should include a continued focus on the female consumer and on Millennials – but retailers need to add the Gen Z consumer to their target list. "Their buying power is incredible," he stated. "They're Internet-savvy and need immediate availability" of products – and it's crucial to think of "Zs" as neither male nor female but rather, as "users" who are more open-minded about diversity in buying choices.
Towns added that, as 2018 progresses, consumers could expect the market's product palette to be populated with even more (and more reasonably priced) voice-control and connected-home choices – which means consumers will likely sign on to own "multiples" of these devices, through the year and into the holidays. "There will be lots more stomach-size for this type of product," Towns said.
As for the broadening of sales channels, Towns sees an increase in popularity of retail channels previously identified solely with fashion, and a continuation of the growth of importance of channels that cater to DIYers, such as Home Depot and Lowe's.
New Age, for its part, celebrated the success of one particular retailer who has mastered the omnichannel sales model, announcing its naming of AAFES (Army and Air Force Exchange Service) as its 2017 Retailer of the Year during CES – a choice based on year-over-year revenue growth and a number of other factors including executive management, brand strategy and fiscal solvency. AAFES recently "took the additional step of offering military retirees the ability to shop with them, for the morale and welfare of soldiers," Towns explains, with some of the profits used to build facilities and programs for service personnel. The retailer merited this distinction, said Towns in the company's announcement of the award, because it "continues to work closely with our team to offer the best products and solutions to improve the lives, of soldiers, airmen, and their families."
New Age also announced at CES that its 2018 Retail Dealer Summit will be held July 16-18 in Hollywood, Calif.