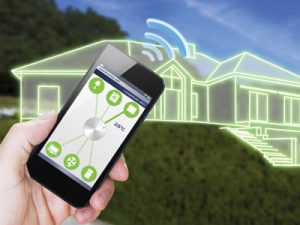 For the generation that grew up on The Jetsons, and their progency born with digital device in hand, smart home should be a no brainer; they should get it.
But just like with most new consumer technologies, the early-round mix of complexity, competing platforms, interoperability and price created a barrier to entry that would make President Trump proud.
Yet according to distributors entrusted with delivering connected product to retailers and installers — and instructing them on the use and marketing of same — smart home is a concept whose time has come.
Ingram Micro, for one, is "bullish on the smart-home space," said Alexandra Harding, director of vendor management, consumer technology solutions, for the 800-pound gorilla of two-step tech distribution. "Consumer adoption is ramping up as they become more familiar and comfortable with the products."
Harding credits manufacturers who are helping the cause by educating consumers, which demystifies the products and focuses attention on their ease of use.
For Colin Blair, Tech Data'sVP of big data and analytics/the Internet of Things, the growing potpourri of smart products is also driving acceptance. "The smart-home category continues to expand as the number of smart devices in the home continues to grow," he noted. "Smart-home hubs are connecting to more things in the home, while mobile phone apps are giving remote access to devices in the home. Smart thermostats, security cameras and advanced lighting are leading the charge, while door locks, garage openers and robotic vacuums are not far behind."
Seth Evenson, customer experience management director at AVAD, argued that the advent of do-able DIY is helping smart home reach critical mass. "Consumer interest in smart homes continues to rise due to increased mid-market product introductions from brands like Nest, Lutron and Ring," he told TWICE. "There are more smart-home solutions available than ever before, allowing the smart home to be within reach of more consumers."
The same holds true within the custom-install channel — to a point. "We are seeing more jobs integrate with many DIY solutions to create a full, cohesive ecosystem," Evanson continued, "but custom installation is still driven strongly by the control infrastructure of the job. Many brands, such as RTI, are ensuring that they make it easy for consumers to take advantage of these solutions while getting the true benefits of complete automation."
Curt Hayes, president/chief financial officer, Capitol, concurred. "Consumers are getting on board with the smart-home category, even if they don't always know the nomenclature," he said. "Whole-house A/V and controls are coming into vogue for nearly all income levels, thanks to the growing relevance of the IoT."
Fred Towns, president of New Age Electronics, believes consumer expectations for more capable and better-connected devices, especially in security, is making smart home one of the hottest categories this year, leaving dealers scrambling to keep items in stock. "Device pairing is getting easier: it takes just a simple set of steps to get you up and working, and plenty of good tools are online to support that," he said. "With Wi-Fi and cellular-enabled monitoring anywhere, anytime, consumers are embracing control at the touch of a button both inside and outside of the home. People are more comfortable and excited about being connected."
Dennis Holzer, executive director of PowerHouse Alliance, the distributor consortium, also gives props to those helpful, disembodied assistants from Amazon and Google. "Consumers aren't just tiptoeing into smart home; demand for this category is exploding," he observed. "With the convergence of networking and security with audio, video and home automation, paired with voice control [via] virtual assistants like Amazon Alexa and Google Assistant, smart-home adoption is growing substantially."
But to Trevor May, executive director, vendor management at D&H Distributing, the best is yet to come. "The smart-home category continues to grow, with more solutions being adopted by a greater number of consumers." However, he added, the category is only in its infancy, and is poised for near triple growth by 2021.
Likewise, Warren Chaiken, president/CEO of Almo, sees the category's development as an evolutionary process, particularly as it pertains to major appliances, which many regard as the smart-home's true Trojan horse. "The current ability to remotely preheat your oven or run a self-diagnostic check on a washing machine showing an error code is creating a lot of consumer interest, but it is following the standard new-technology adoption pattern," he said "For Boomer and Gen X buyers, smart-home appliances are a luxury and purchased by traditional early adopters and higher-income households. Millenials want it but these features are offered mostly in top-of-line models, so only the more affluent are purchasing."
But by the time Gen Z is ready to buy their first homes, "Smart features will be expected and will have achieved mass-market status with lower price points," Chaiken said.
Ultimately, it all comes down to the end-user, and perceived utility. As Climatic Home Productspresident Doug Allen said succintly, "Consumers are looking for connected appliances that will help simplify and improve their lifestyle."