Products
Rally Camera
Packed with advanced optics and breakthrough technologies, Rally Camera delivers premium performance in professional meeting spaces of all shapes and sizes.
MeetUp
All-in-One ConferenceCam with 120° field of view and integrated audio, perfect for small conference and huddle rooms.
Connect
Portable ConferenceCam with Bluetooth speakerphone for the huddle room, home office, and on the go.
Brio
Our premier 4K ultra high-def camera offers 5x digital zoom, high frame rates, outstanding low-light performance, HDR, and RightLight™ 3.
C925e
Delivers affordably priced, HD-quality video in any office environment. The sturdy, adjustable clip makes it easy to mount on both laptops and external monitors, while a sliding shade assures privacy.
B525 HD
The compact, folding design simplifies travel, and features a universal mounting clip for your laptop or other device. High-definition video presents clear images for every participant to see.
Logitech SRS MeetUp Huddle Room Kit with Flex
The MeetUp conference camera further improves the video conferencing experience with a super-wide 120-degree field of view, pan/tilt lens, Ultra 4K optics, and 3 camera presets. MeetUp's integrated audio is optimized for huddle rooms. Three beamforming mics and a custom tuned speaker ensure everyone can be seen and heard.
Logitech SRS GROUP Solution Kit with Flex
The GROUP video conferencing system further improves the video conferencing experience with a full PTZ Camera with 90º FOV, 260º pan, 130º tilt, and 10x lossless zoom for enhanced video. Full-duplex speakerphone gives the user full control of the room. Expansion Mics (included) extend the range of the room to up to 20 people.
Logitech SRS Rally Solution Kit with Flex
The Rally video conferencing system further improves the video conferencing experience with its vocal clarity, whisper-quiet mechanical Pan/Tilt/Zoom, 15X HD zoom, 90° field of view, 4K sensor, and meeting automation, combined with Logitech's RightSense™ technologies that automatically frame human figures and optimize color and luminance for human faces.
H820e
Wireless headset for business communications. Up to 300-foot range. Up to 10 hours of talk time. All-day comfort.
H650e
Stylish and sophisticated headset for pro-quality audio. Tactile and intuitive controls. Enterprise-grade audio quality. Designed and certified for business. Screen reader support enabled.
P710e Mobile Speakerphone
Make an Instant Conference Room. Works with most any computer or mobile device. Go cordless with up to 15 hours of talk time. Integrated stand for smartphones and tablets.
Screen Share
Logitech Screen Share brings fast and easy content sharing to any conference room computer. Simply connect a laptop or tablet via HDMI to start sharing.
Expansion Mic for MeetUp
Provides greater flexibility in huddle room configurations. MeetUp's built-in beamforming mics are optimized for up to 8 feet (2.4 meters). To extend that range up to 14 feet (4.2 meters), add an Expansion Mic.
FLEX Extender
Simplify room wiring by connecting data, audio, video or a single CAT6 cable to the SmartDock with FLEX.

There is a strong movement away from large dedicated conference rooms to a wider range of room sizes, such as medium and huddle rooms, workstations, and mobile workspaces. This trend to room flexibility allows businesses to be outfitted for video. Collaboration at a fraction of the cost of dedicated video-enabled rooms.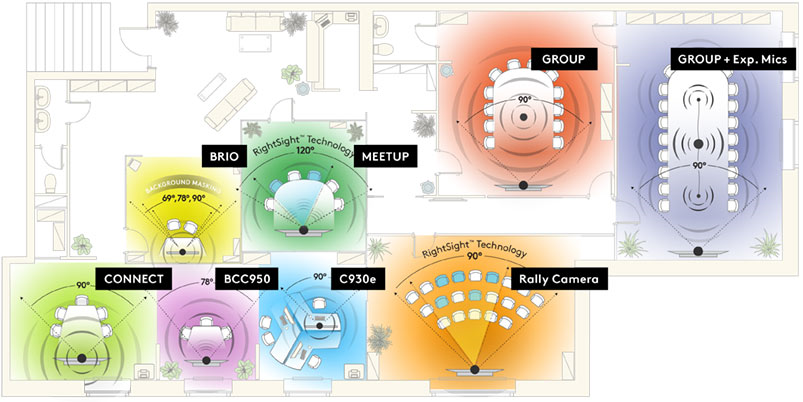 Small Room: 1-2 participants
SmartDock SRS Base
Complete A/V control console delivering convenience for meeting organizers and peace of mind for IT. Effortless center-of-table control allows users to click to join meetings. Easy-to-use screen sharing allows for the most productive collaboration environment. Supports Dual Display and 2 or more cameras.
Huddle Room: 2-8 participants
MeetUp SRS Huddle Room
With 4K optics and a super-wide 120° field of view, Logitech MeetUp makes every seat at the table clearly visible. And its integrated audio is optimized for huddle room acoustics, ensuring everyone can be heard as well as seen.
Medium/Large Room: Up to 20 participants
Group + Expansion Mics
Affordable video conferencing for mid to large-sized meeting rooms. See every detail with HD video and 10x zoom. Works with your meeting and video conferencing applications. Crystal-clear audio for up to 20 participants with expansion mics.
Connect with us!
Want more information on how Logitech products and solutions can help in your workspace?
Chris Theademan
LogitechPproduct Manager, SYNNEX