It's kinda startling how much ground can be covered in less than 90 minutes when you lock eight leading industry merchants (and one renowned CE analyst) inside a room and discourage the use of mobile phones.
But that's exactly what happened during the latest installment of TWICE's Executive Retail Roundtable, held each year on the first morning of CES. This go 'round — more like a lightning round — our panelists tackled an expansive range of pressing industry issues, from where wearables went wrong, to TV's mixed recovery and the Trump administration's impact on tech.
The closed-door session was recorded in order to share the panelists' insights; let's listen in …
TWICE: So, did Santa deliver for the CE industry last quarter?
Stephen Baker, VP, industry analyst, The NPD Group: I'm always the wet blanket so I'm going to throw a little cold water on at least some pieces of what we saw during the holidays.
While TVs were good, there was a clear deceleration over the holiday period from week to week in terms of both units and revenue. Pricing, as most everybody knows, had been a challenge last year, very, very aggressive. We think the Walmart $299 55-inch [4K from Philips] probably disrupted a big chunk of the rest of the TV market, and that's one of the reasons why the numbers ended up being a lot weaker.
If you look at the first couple of weeks of November, sales looked a lot more like they did the previous seven or eight months. After Thanksgiving, TV sales really slowed down considerably compared to the kind of growth we'd been seeing previously.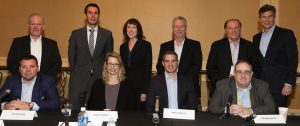 The TWICE Executive Retail Roundtable. Standing from left: Alan Wolf, TWICE; Neal Martinelli, HSN; Mary Campbell, D&H Distributing; Dave Workman, ProSource; Fred Towns, New Age Electronics; Dene Rogers, RadioShack. Seated from left: Tom Hickman, Nationwide; Laura Orvidas, Amazon; Ryan Ciovacco, Sears Holdings; Steve Baker, The NPD Group
Read full article on TWICE.com