New Age Electronics Announces 2016 Retailers of the Year at the 2017 International Consumer Electronics Show (NYSE:SNX)
Distributor selects BJ's Wholesale Club as Brick and Mortar Retailer of the Year and Purchasing Power as E-commerce Retailer of the Year
LAS VEGAS, Jan. 5, 2017 /PRNewswire/ — (from 2017 International Consumer Electronics Show) — New Age Electronics, a leading distributor of consumer electronics and gaming products and services and a division of SYNNEX Corporation (NYSE: SNX), announced that it has selected BJ's Wholesale Club as Brick and Mortar Retailer of the Year and Purchasing Power as E-commerce Retailer of the Year at its customer appreciation event during the 2017 International Consumer Electronics Show (CES) in Las Vegas.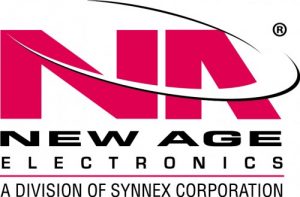 New Age Electronics Announces 2016 Retailers of the Year at the 2017 International Consumer Electronics Show (NYSE:SNX)
"BJ's Wholesale Club and Purchasing Power are two strategic customers for New Age Electronics, and we are pleased to congratulate them for their achievements over the course of 2016," said Fred Towns, President, New Age Electronics. "They both continue to deliver innovative new ways to market and sell products to consumers and exemplify the success that can be achieved in the Consumer Technology industry through a closely aligned distributor and retailer relationship."
Both award recipients are selected for year-over-year revenue growth, close executive alignment, strategic partnership, sourcing of multiple brands, and a consistent positive credit standing. BJ's Wholesale Club is recognized for its ability to grow its business with New Age Electronics in today's highly competitive retail environment. The company's success is a result of an ongoing commitment to evolving its business model to deliver a one-stop shopping experience built on unmatched value and product selection. Purchasing Power is recognized for expanding its portfolio through innovative new ways to market products to consumers through multiple platforms. The e-retailer continues to demonstrate how a company can successfully evolve as the market changes and consumers continue to shop differently.
"BJ's is honored to be selected as New Age Electronics Retailer of the Year," said Chris Desantis, Vice President General Merchandise, BJ's Wholesale Club. "Families can find a range of the latest consumer electronics at BJ's at a value that can't be matched. New Age Electronics has been a tremendous partner in helping BJ's deliver the best assortment at the best prices to our members."
"We are very excited and extremely honored to be named New Age Electronics E-Commerce Retailer of the Year. We have enjoyed a long standing strategic partnership with New Age, which has been pivotal to driving the growth and success of our e-commerce platform," said David Carlock, Vice President, Merchandising, Purchasing Power. "New Age brings great value to our business, from offering premium brands and innovative emerging technologies to providing vast bundling solutions. Furthermore, NAE partners closely with us to plan our business and excels in delivering flawless execution."
At its CES customer appreciation event, New Age Electronics also announced that its 2017 Retail Dealer Summit conference will be held July 19-21 in Las Vegas. Retail Dealer Summit is New Age Electronics' premier annual event catered exclusively for its retailer and vendor partners designed to help them prepare for the back-half of the year and the all-important Holiday Season.
For more information about New Age Electronics, call (800) 947-5974, email mikemu@synnex.com or visit www.newageelectronics.com.
About New Age Electronics
New Age Electronics, a division of SYNNEX Corporation (NYSE: SNX), is a sales and supply chain solutions innovator that provides consumer technology (CT) manufacturers with a broad offering of logistics, distribution and remanufactured services. Extensive experience in the CT industry and a customer-centric approach has made New Age Electronics the provider of choice. New Age Electronics distinguishes itself with efficient operations and relentless focus on customer satisfaction. Founded in 1988, New Age Electronics is headquartered in Carson, California.  For more information about New Age Electronics, call (310) 549-0000, toll-free (888) 234-0300 or visit the company's website at www.synnex.com/nae.
About SYNNEX Corporation                                                                                                          SYNNEX Corporation (NYSE:SNX), a Fortune 500 corporation, is a leading business process services company, optimizing supply chains and providing outsourced services focused on customer relationship management. SYNNEX distributes a broad range of information technology systems and products, and also provides systems design and integration solutions. Concentrix, a wholly-owned subsidiary of SYNNEX Corporation, offers a portfolio of strategic solutions and end-to-end business services around customer engagement strategy, process optimization, technology innovation, front and back-office automation and business transformation to clients in ten identified industry verticals. Founded in 1980, SYNNEX Corporation operates in 26 countries around the world. Additional information about SYNNEX may be found online at www.synnex.com.
About BJ's Wholesale Club, Inc.
Headquartered in Westborough, Massachusetts, BJ's is the leading operator of membership warehouse clubs in the Eastern United States. The company currently operates 214 clubs and 130 BJ's Gas® locations in 15 states.
BJ's provides a one-stop shopping destination filled with top-quality, leading brands, including its exclusive Wellsley Farms and Berkley Jensen brands, along with USDA Choice meats, premium produce and delicious organics,  many in supermarket sizes. BJ's is also the only major membership warehouse club to accept all manufacturers' coupons and, for greater convenience, offers the most payment options. Visit www.BJs.com, and for exclusive content find us on Facebook, Twitter, Pinterest and Instagram.
BJ's is wholly owned by affiliates of Leonard Green & Partners, CVC Capital Partners and its management team.
About Purchasing Power, LLC
Purchasing Power, LLC, is one of the fastest-growing voluntary benefit companies in the industry, offering a leading employee purchase program for consumer products and services as well as providing financial tools and resources to improve employee financial wellness. Purchasing Power is available to millions of people through large companies including Fortune 500s, associations and government agencies. Headquartered in Atlanta, Purchasing Power is 'Powering People to a Better Life™' through its employee purchase program, financial literacy efforts and corporate social responsibility initiatives. Purchasing Power is a Flexpoint Ford, LLC company. For more information, visit www.PurchasingPower.com.
Safe Harbor Statement
Statements in this release that are forward-looking, such as the success of the collaborations, involve known and unknown risks and uncertainties, which may cause the Company's actual results in future periods to be materially different from any future performance that may be suggested in this release. The Company assumes no obligation to update any forward-looking statements contained in this release.
Copyright 2017 SYNNEX Corporation. All rights reserved. SYNNEX, the SYNNEX Logo, CONCENTRIX, NEW AGE ELECTRONICS, the NEW AGE ELECTRONICS Logo, and all other SYNNEX company, product and services names and slogans are trademarks or registered trademarks of SYNNEX Corporation. SYNNEX, the SYNNEX Logo, CONCENTRIX, NEW AGE ELECTRONICS and the NEW AGE ELECTRONICS LOGO Reg. U.S. Pat. & Tm. Off. Other names and marks are the property of their respective owners.
SNX-G
To view the original version on PR Newswire, visit:http://www.prnewswire.com/news-releases/new-age-electronics-announces-2016-retailers-of-the-year-at-the-2017-international-consumer-electronics-show-300386378.html
SOURCE New Age Electronics
News Provided by Acquire Media