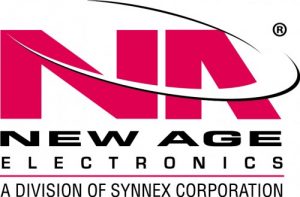 Hollywood, CA (from 2016 New Age Electronics Retail Dealer Summit) – July 20, 2016 – New Age Electronics, a leading distributor of consumer electronics and gaming products and services and a division of SYNNEX Corporation (NYSE: SNX), announced today that it has signed an agreement with ZEISS Multimedia Devices, an internationally-leading technology enterprise operating in the optics and optoelectronics industries, to distribute the newly launched VR ONE Plus virtual reality headset to the US retail channel. The VR ONE Plus is Zeiss Multimedia Devices' second-generation virtual reality headset and provides an innovative, high-quality VR experience that is compatible with a wide range of mobile devices.
By adding ZEISS Multimedia Devices to its portfolio, New Age Electronics gives retailers access to a leading virtual reality product to deliver to consumers in this rapidly growing category. According to the Consumer Technology Association's 2016 edition of Five Technology Trends to Watch, the US smart eyewear market, which is overwhelmingly composed of virtual reality and augmented reality devices, will total more than $500 million by the end of 2016.
"As our team continues to research the hottest new products to meet consumer demand, virtual and augmented reality is a category we are monitoring closely and providing retailers with innovative new options in, which is especially critical as we approach the holiday buying season," said Fred Towns, President, New Age Electronics. "Products like the VR ONE Plus provide users with a range of exciting, immersive experiences, from delivering new possibilities in gaming and entertainment to offering business applications for industries such as commercial real estate, education and medicine."
The ZEISS VR ONE Plus is designed with the same premium ergonomics, material quality and precise optics as the original VR ONE virtual reality headset. The new model includes several changes that enhance the device's functionality, including a universal smartphone tray that works with any Android or iOS smartphone with a screen size between 4.7 and 5.5 inches. This includes both the iPhone 6/6s and iPhone 6 Plus. The VR ONE Plus comes with a removable head strap that allows users to configure the device to their viewing needs depending on the application in use, along with a removable front faceplate and foam inserts that can easily be replaced after heavy usage.
For more information about ZEISS Multimedia Devices through New Age Electronics, call (800) 947-5974, email mikemu@synnex.com or visit www.newageelectronics.com.
About New Age Electronics
New Age Electronics, a division of SYNNEX Corporation (NYSE: SNX), is a sales and supply chain solutions innovator that provides consumer technology (CT) manufacturers with a broad offering of logistics, distribution and remanufactured services. Extensive experience in the CT industry and a customer-centric approach has made New Age Electronics the provider of choice. New Age Electronics distinguishes itself with efficient operations and relentless focus on customer satisfaction. Founded in 1988, New Age Electronics is headquartered in Carson, California.  For more information about New Age Electronics, call (310) 549-0000, toll-free (888) 234-0300 or visit the company's website at www.synnex.com/nae.
About SYNNEX Corporation
SYNNEX Corporation (NYSE:SNX), a Fortune 500 corporation, is a leading business process services company, optimizing supply chains and providing outsourced services focused on customer relationship management. SYNNEX distributes a broad range of information technology systems and products, and also provides systems design and integration solutions. Concentrix, a wholly-owned subsidiary of SYNNEX Corporation, offers a portfolio of strategic solutions and end-to-end business services around customer engagement strategy, process optimization, technology innovation, front and back-office automation and business transformation to clients in ten identified industry verticals. Founded in 1980, SYNNEX Corporation operates in 26 countries around the world. Additional information about SYNNEX may be found online at www.synnex.com.
About ZEISS
ZEISS is an internationally leading technology enterprise operating in the optics and optoelectronics industries. The ZEISS Group develops and distributes semiconductor manufacturing equipment, measuring technology, microscopes, medical technology, eyeglass lenses, camera and cine lenses, binoculars and planetarium technology. With its solutions, the company constantly advances the world of optics and helps shape technological progress. ZEISS is divided up into the four segments Semiconductor Manufacturing Technology, Research & Quality Technology, Medical Technology, and Vision Care/ Consumer Optics. ZEISS is represented in over 40 countries and operates more than 30 production sites, over 50 sales and service locations and about 25 research and development facilities.
In fiscal year 2014/15 the company generated revenue approximating €4.5 billion with around 25,000 employees. Founded in 1846 in Jena, the company is headquartered in Oberkochen, Germany. Carl Zeiss AG is the strategic management holding company that manages the ZEISS Group. The company is wholly owned by the Carl Zeiss Stiftung (Carl Zeiss Foundation).
Further information at www.zeiss.com.
Safe Harbor Statement
Statements in this release that are forward-looking, such as product features and capabilities, the extent of the US smart eyewear market by the end of 2016, and general success of the collaboration, involve known and unknown risks and uncertainties, which may cause the Company's actual results in future periods to be materially different from any future performance that may be suggested in this release. The Company assumes no obligation to update any forward-looking statements contained in this release.
Copyright 2016 SYNNEX Corporation. All rights reserved. SYNNEX, the SYNNEX Logo, CONCENTRIX, NEW AGE ELECTRONICS, the NEW AGE ELECTRONICS Logo and all other SYNNEX company, product and services names and slogans are trademarks or registered trademarks of SYNNEX Corporation. SYNNEX, the SYNNEX Logo, CONCENTRIX, NEW AGE ELECTRONICS and the NEW AGE ELECTRONICS Logo Reg. U.S. Pat. & Tm. Off. Other names and marks are the property of their respective owners.
SNX-G
Media Contact
Eliza Bostian
Senior Account Executive, Hughes Agency
For SYNNEX Corporation
(864) 271-0718
elizab@hughes-agency.com
###

---
This announcement is distributed by NASDAQ OMX Corporate Solutions on behalf of NASDAQ OMX Corporate Solutions clients.
The issuer of this announcement warrants that they are solely responsible for the content, accuracy and originality of the information contained therein.
Source: Synnex Corporation via Globenewswire
HUG#2029540
News Provided by Acquire Media