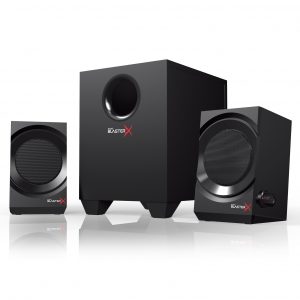 Kratos S3
2.1 Gaming Speakers
The Sound BlasterX Kratos S3 is packed with a pair of powerful 2.75" satellites and a port-tube design 5.25" down-firing subwoofer that are designed for gamers who need an entry-level gaming speaker system without compromising sound quality. This speaker system fulfills your audio needs from chilling out to your favorite movies and songs, to high-intensity all-out gaming warfare.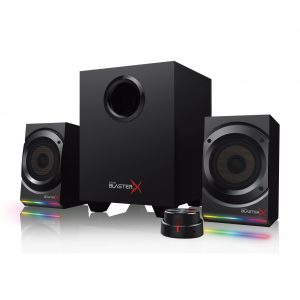 Kratos S5
2.1 Gaming Speaker System with Customizable RGB Lighting
The BlasterX Kratos S5 is the best-in-class 2.1 gaming speaker system with Aurora Reactive lighting system designed to elevate your listening pleasure for gaming and music. Packing powerful 4" satellite drivers and 6.5" subwoofer driver in wooden enclosures, the Kratos S5 delivers clear highs, detailed mid-range, and deep bass. When connected to your PC or Mac via USB, you can also enjoy High-quality 24-bit/96kHz digital audio playback.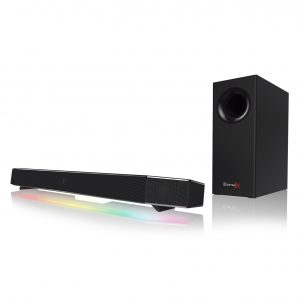 Sound Blaster Katana
Multi-channel Gaming Soundbar
Named after the sword so technologically perfect in structure and so demanding in its creation, the Sound BlasterX Katana exhibits the same sleek sophistication and formidable strength in its design and audio prowess. In a league of its own, the Katana fits right under your monitor with a slimness that's unmatched by other so-called gaming "sound bars", and is powered and enhanced by our award winning multi-core audio DSP making it the world's first true Under Monitor Audio System (UMAS). In addition, the Sound BlasterX features the Aurora Reactive lighting system, a series of 49 programmable LED lights lined from edge to edge of the Katana chassis, making it the perfect addition to fully optimize and customize your PC and desktop setup.