Engage Call Recording, Quality Management and Workforce Optimization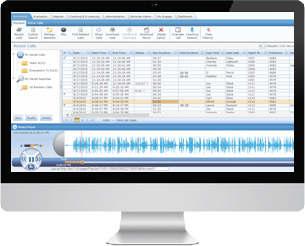 Engage WFO for contact center workforce optimization provides call recording with live monitoring, centralized management and performance dashboards, along with integrated screen capture, agent evaluation, coaching and e-learning. Desktop Analytics automates PCI compliance and CRM integration, and Workforce Management maximizes contact center performance by optimizing agent productivity.
Call Recording
Engage Record provides rock-solid call recording easily tailored to contact center needs for service excellence, policy adherence and regulatory compliance. Engage Record enables staff to better monitor quality, better understand customers, improve performance, resolve disputes quicker, support legal defense, and mine fresh business intelligence.
Quality Management
Engage Quality equips contact center supervisors to perform agent evaluations and immediate coaching, as well as provide e-learning while pinpointing opportunities to improve agent call-handling practices. Engage Quality features help ensure agent adherence to best practices, corporate expectations and regulatory standards.
Screen Recording
Engage Capture integrates with Engage Record to capture video recordings of each agent's desktop activity, synchronized with each voice recording to create a complete view of customer interactions, including email and chat sessions. Engage Capture also provides live monitoring of agent and team work screens simultaneously.
Speech Analytics
Engage Analytics and Analytics Pro apply phonetic and large vocabulary index analyzed to locate selected words and phrases in call recordings, helping to uncover fresh insights for improving products and services, reducing risks, and increasing customer satisfaction.
Desktop Analytics
Engage Desktop Analytics extracts key data from agent desktop activities and stores it with customer calls for easy retrieval. The tool automatically captures, censors, tags, organizes and maps activity to automate work processes, extract data, and link related interactions.
Workforce Management
Engage WFM is a powerful workforce management system combining industry-leading forecasting and scheduling with easy usability. Engage WFM ensures that the right number of agents with the right skills are in the right seats, at the right time.