Spectralink Products Make WorkSmart Possible
Spectralink can help your business customers work smarter, starting with the way they communicate and the information they have at hand. In any environment, Spectralink has a solution to help people perform efficiently and intelligently. That's WorkSmart.
Voice over Wi-Fi Solutions for Enterprise Systems
The Spectralink 8000 Portfolio wireless telephones operate on converged voice and data Wi-Fi infrastructure and significantly improve employee mobility, responsiveness and productivity. The two lines within the portfolio – PIVOT™ by Spectralink (87-Series) and Spectralink 84-Series – are market-leading, enterprise-grade Voice over Wireless LAN (VoWLAN) handsets that combine superior quality voice communication with on-the-go access to critical data. Broad interoperability with enterprise WLAN infrastructure and call servers/PBX makes it simple to incorporate into existing networks.
Spectralink 8000 handsets are designed to withstand the rigors of the toughest workplace environments while providing access to critical data and all the feature functionality of a desk phone, including superior voice quality delivered by Spectralink VQO.
The PIVOT family of products consists of two form factors and four models. All models feature a large backlit color display, a touchscreen with full keyboard, an enterprise-grade speakerphone, and superior resistance to dust and liquids, including cleaning agents. They are differentiated by their ease of use, ergonomic design, voice quality, seamless VoWi-Fi roaming and durability.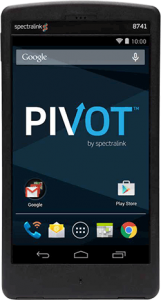 Cost-Effective, Flexible and User-Friendly DECT Solutions
The Spectralink 7000 Portfolio wireless solution is built on the international DECT (Digital Enhanced Cordless Telecommunications) standard, providing a cost-effective, highly secure and reliable wireless telephony solution in an elegant design. Operating at 1.8/1.9GHz, the modular Spectralink 7000 Portfolio allows your customers to easily expand coverage, voice traffic and number of users, making it ideal for businesses of all sizes to improve employee productivity, mobility, reaction time and personal safety.