Featured Security Products
Juniper Networks innovates high-performance, scalable and intelligent network security solutions for enterprises and service providers.
SRX Series Firewalls
SRX Series gateways combine high-performance security with advanced, integrated threat intelligence, delivered on a scalable and resilient platform. SRX sets new benchmarks with 100GbE interfaces and features Express Path technology, enabling data center performance up to 2Tbps.
The new SRX1500 is the first of its kind to support SKY ATP cloud-based security. The SRX Series also includes the SRX110, SRX220, SRX300, SRX550, SRX1400, SRX3400, SRX3600, SRX5400, SRX5600 and SRX 5800.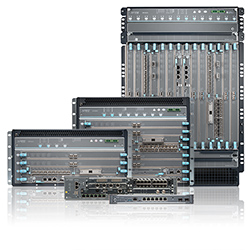 cSRX Container Firewall
The compact, high-density cSRX for virtualized and cloud environments provides content security, AppSecure and unified threat management. With its small footprint and Docker as a container management system, cSRX enables agile, high-density security service deployment.
vSRX Virtual Firewall
The vSRX delivers core firewall, networking, advanced security and automated lifecycle management for enterprises and service providers. The vSRX offers firewall speeds up to 17Gbps using only two vCPUs, scaling to 100Gbps with 12 vCPUs to provide flexible, secure protection across private, public and hybrid clouds.
Junos Space Security Director
The responsive Junos Space Security Director is a network security management product that offers efficient, highly scalable and comprehensive network security policy management.
Innovations for Service Providers
Juniper is committed to innovation in the areas of silicon, systems and platforms to ensure your cable business can constantly scale to meet network bandwidth demand. Juniper's end-to-end packet network architecture for cable gives multiple service operators (MSOs) new solutions that:
Simplify the network architecture
Provide increased security for end users and for the network
Deliver greater automation through new orchestration platforms
Introduce new revenue-generating services
Enable higher access speeds
Simplify network management and allow for more rapid service provisioning