Gigamon GigaSECURE
GigaSECURE is Gigamon's Security Delivery Platform. GigaSECURE connects into the network, both physical and virtual, and delivers traffic to all of the applications that require it. Security appliances simply connect into the GigaSECURE platform – at whatever interface speeds they are capable of – to receive a high-fidelity stream of relevant traffic from across the network infrastructure.
GigaSECURE supports a wide variety of security solutions that can sit outside of the production network for the detection of malware and the lateral movement of malware, exfiltration activity, post-incident forensics, and other security initiatives.
GigaSMART for Traffic Intelligence
GigaSMART® technology incorporates high-performance compute engines to extend the intelligence and value of the Gigamon Visibility Fabric™ architecture by modifying, transforming, and correlating traffic from various sources to the tools you rely upon for management, monitoring, and security.
The Gigamon Visibility Fabric™ Architecture
Discover the benefits of visibility in 2 minutes.

Gigamon Visibility Platform for AWS
Visibility Platform for AWS is an industry-leading solution for visibility to data-in-motion traffic for private, public and hybrid clouds. Companies of all sizes are using Gigamon's Visibility Platform for AWS to gain a consistent, deep and elastic visibility into their AWS network data, allowing the on-premises or cloud-based network and security tools to inspect, detect, react to and respond to any threats to applications.
Traffic Intelligence in Your AWS Environment:
Manage
Secure

Elastic, deep visibility into network data within and across AWS Virtual Private Clouds (VPC)
One consistent way to access, categorize and consolidate the delivery of network traffic to out-of-band security and performance management tools
Flexible deployment models to expedite AWS spin up and migration

Mitigate risk and ensure data privacy compliance to enhance your security posture
Improve the scale, performance and effectiveness of security tools
Accelerate incident identification and response

Understand

Improve the customer experience by delivering better, faster service to high-value customers
Identify vulnerable blind spots and choke points between application workloads to expedite decision making
Preserve ROI, and minimize operational and maintenance costs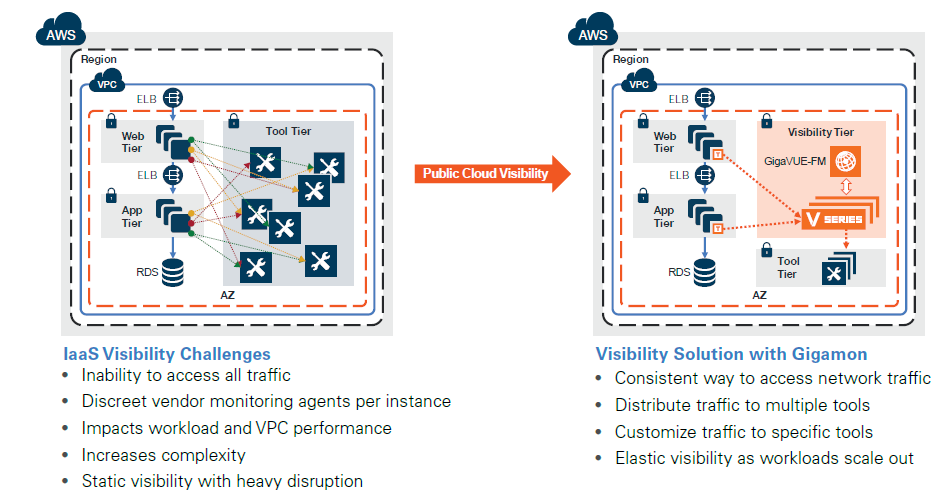 Find out for yourself how Gigamon's Visibility Platform for AWS provides pervasive, elastic and automated visibility when it comes to managing, securing and understanding data in motion in your AWS Virtual Private Cloud environment.