Power Up Your Sales Engine: Become an Avaya Solution Provider
First Steps as an Avaya Partner
Quickly becoming enabled on Avaya systems, solutions, processes and resources is key to a new Avaya Partner's success. Avaya has created five short playbooks – Sales, Technical Sales, Marketing, Service Delivery, and Operations – that contain the role specific core information a partner employee will need to quickly get up to speed on working with Avaya. Each playbook can be viewed in a little more than an hour's time and each step or topic can be referred back to when needed, making it a valuable reference tool.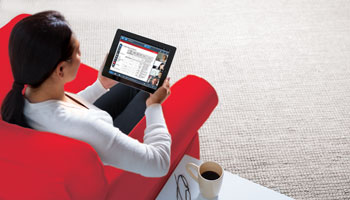 The Sales playbook is designed to prepare a Partner Sales person to pitch and propose an Avaya solution.
The Technical Sales playbook is designed to prepare a Partner Sales Engineer to design, pitch and propose an Avaya solution.
The Marketing playbook is designed to prepare a Partner Marketing Manager to create and execute demand generation programs and campaigns for Avaya solutions.
The Service Delivery playbook is designed for a Partner Service Delivery Manager and Technician to understand the Avaya service offers, policies, tools and resources available in support of customers.
The Operations playbook is designed to prepare a Partner Operations Manager or Avaya Practice Leader to understand Avaya processes, policies and ability to manage/coordinate opportunities from pre-sales through implementation.
Let Westcon steer your business onto a RapidRamp for success! Our exclusive RapidRamp program offers free enablement sessions that position partners to successfully sell and support Avaya solutions. Presented by our team of experts, sessions are available on a monthly and quarterly schedule to accelerate your Avaya portfolio sales, close rates and business growth.
Avaya EdgeSM is our worldwide channel program designed to support Avaya partners as they grow their business; sell Avaya products, solutions, and services; achieve competency in leading-edge Avaya solutions; and better compete in the marketplace. This innovative, global program provides an opportunity for partners to differentiate their company in the market, and gives unprecedented access to a comprehensive set of financial, technical, sales and marketing benefits. The program structure is based on partner tracks, streamlined requirements, country location and three gem levels: diamond, sapphire and emerald.
Steps to Partnership
Complete the Avaya Application. Also download and complete the Supplemental Application Information form at the bottom of the page, then upload it to the Avaya Application before submitting.
An Avaya representative will schedule an introductory call to learn about your business, explain the Partner Connect Program, and ensure you agree to the partner requirements.
Upon approval of your application, your business will be assigned an Avaya Link ID. The Link ID is your official Avaya account number.
Partner Dashboard
Partners can click on the new Partner Dashboard icon in the top right corner of the Avaya Partner Portal to access overview and detailed information of your company's Avaya Edge profile status, opportunity funnel views, and expiring credentials. Information will be displayed based on your company and your role within your company, as defined by your PRM Partner View user account – so the Dashboard is both personalized and secure!
Demo Equipment Purchase Program
Partners can purchase Avaya equipment for demonstration or company infrastructure purposes at a significant discount. This program offers access to new systems and upgrades for Avaya solutions. Some product portfolios have a partner demo kit purchase requirement.