For DDoS and Advanced Threat Protection, Think Arbor Networks
DDoS PROTECTION SOLUTIONS
Arbor's DDoS Protection Solutions are proven in the world's most demanding networks. The Arbor Networks product portfolio offers complete deployment and pricing flexibility through a mix of managed services, in-cloud, on-premises and virtualized solutions.
Arbor Networks APS – powerful on-premises DDoS protection made simple
Arbor Cloud – a DDoS service powered by the world's leading experts in DDoS mitigation, together with the most widely deployed DDoS protection technology
Arbor Networks TMS – automated DDoS attack mitigation and service visibility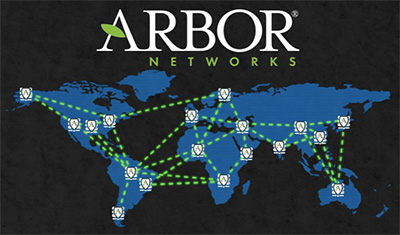 ADVANCED THREAT SOLUTIONS
Arbor's Advanced Threat Solutions leverage NetFlow and Packet Capture technology for network-wide situational awareness, broad and deep traffic visibility, and dynamic security intelligence that converts threat detection and incident response into powerful visualization and business insights.
GLOBAL TRAFFIC INTELLIGENCE
ATLAS® is a collaborative project with more than 330 ISP customers who share hundreds of terabits per second of anonymous traffic data. From this unique vantage point, Arbor is ideally positioned to deliver intelligence about – and protections from – botnets, DDoS attacks, malicious campaigns and advanced threats.
ATLAS Intelligence Feed (AIF) – includes geo-location data and automates the identification of attacks against infrastructure and services from known botnets and malware while ensuring updates for new threats are automatically delivered without software upgrades
Arbor's Security Engineering & Response Team (ASERT) – part of an elite group of institutions known as "super remediators" that represent the best in information security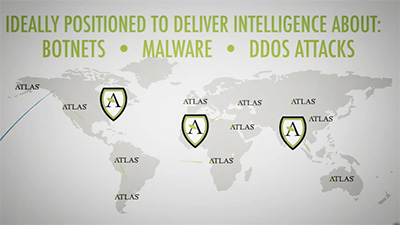 NETWORK VISIBILITY
Sound performance and threat management start with network visibility. The vast majority of ISPs worldwide rely on Arbor for visibility from the peering edge, at the customer edge, into data centers, and on mobile networks. Arbor intelligently analyzes data from across the network, allowing end users to detect threats, improve traffic engineering, provide business insights, and optimize service performance.
Arbor Networks SP – provides comprehensive network visibility and reporting capabilities to help detect and understand availability threats and improve traffic engineering, peering relationships and service performance
Arbor Networks SP Insight – builds on Arbor's SP network visibility platform, adding powerful new big data capabilities that create a photographic memory of network traffic data plus new visual analytics for exploring it at the speed of thought