Westcon-Comstor Financial Services
The Westcon-Comstor Financial Services Team makes it easy for our resellers to do business. In fact, we can substantially increase your ability to succeed and grow your business. Like the rest of the Westcon-Comstor organization, our team is solutions-driven and assists customers of all sizes during each phase of the sales cycle.
The earlier in the sales process customers engage with the Westcon-Comstor Financial Services Team, the faster they can benefit from the many financing solutions we provide to ensure continued growth and success.
Westcon-Comstor Financial Services Can Assist You and Your Business
Our Consultative Approach

Our team takes the time to understand our customers' financial situations. We assist them in choosing the most appropriate financing vehicle to help them achieve their goals. Most importantly, our conversations are typically not about a single deal—they a focus on how our financial solutions can assist in growing our partners' business over the long term.

Education Initiatives

We take the time to get to know you and your business. Our team members reach out to our partners on a regular basis to bring them up- to-speed on the latest tools and financing options available for their particular business. With that knowledge, we are able to recommend a financing solution, or a combination of solutions, that fit your business situations, as well as accomplishing new opportunities and growth.

A Breadth of Financing Solutions

With more than 30 years of experience in working with partners, we have developed a custom set of financing solutions that include in-house administered programs, to programs administered by our third party partners. We have partnered with some of the best to build these programs that include commercial distribution finance companies, leasing organizations, and other financing companies to fit almost any need our partners may have.

The Global Financial Strength of WestconGroup

As a $6 billion dollar global company, we have resources other distributors simply cannot provide. We help our customers leverage the financial strength of our organization every day and are always looking for financially creative ways to make our customers more successful.
Financial Solutions to Help You Grow Your Business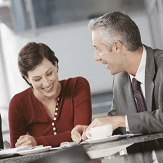 When you partner with Westcon-Comstor, you have an entire portfolio of financing solutions at your disposal. We offer a variety of solutions to meet practically any financing situation. By being armed with the proper understanding of your options and the right financial services team, there isn't any opportunity that we can't assist you in capturing. From a number of in-house programs to third party financing companies, the Westcon-Comstor Financial Services Team is poised to deliver innovative financial solutions to help strengthen your business, your market position and your bottom line. Armed with the options we have available, you will be in a solid position to know that, no matter what opportunity may present itself, we are here to assist you in financing it.