Get on the Same Page with Cisco WebEx Teams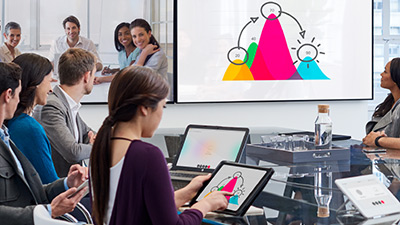 You know that same page we're all supposed to be on? It's here. Introducing Cisco Webex Teams. Now you can stay connected between meetings with virtual meeting spaces, messaging, file sharing, whiteboards, and even video calling.
Cisco Webex Teams brings everyone and everything together in one simple-to-use, secure space. Moving work forward has never been easier. End-to-end security. Compliance. Management and analytics. It's all right there in front of you and everyone involved in the project.
Cisco WebEx Teams…the more intuitive way to work.
Jim Beam Raises a Glass to Cisco Security
With more than 80 distilleries and plants around the world, Beam Suntory is working with Cisco to keep data breaches and high-proof explosions at bay.
Speaking on a panel during Cisco Live last week in Orlando, Florida, Beam Suntory's Amon Hogue spoke about how his company has hardened its network against hackers while also giving remote access to experts to fix problems.
While Beam Suntory has been making Jim Beam bourbon in Kentucky since 1895, it also distills vodka, tequila and cognac. Hogue, senior network architect, said the point of cybersecurity was driven home during a conference he attended.
"We were at a DEFCON security convention, which is a hacker's convention, two or three years ago and they actually had a whiskey distillery set up that they hacked in front of everybody," he said. "They caused a massive explosion through remote access. For me, my big concern is security from an IT perspective. I don't want somebody just plugging in a machine to the network that has potential hazardous impact."
Express Networking Boot Camp Set for July 12
The Express Networking Boot Camp is a streamlined and comprehensive way to advance your company to Cisco Select Status. This is a virtual, full-day training available to all Registered Cisco Partners who have an account with Comstor.


Thursday, July 12
9:00 a.m. – 5:00 p.m. Eastern
Course Objectives
Describe and explain the Meraki mission
Describe and explain Meraki cloud architecture design
Describe and explain how to identify Meraki opportunities
Describe and explain the Meraki licensing model
Target Exam: 700-901
For additional information, please Diana Guthrie, Comstor Marketing Manager, at 303-222-4762 or dianag@comstor-na.com.
Cisco Hosting BE 4000 Webinar
One session remains in the series of webinars for Comstor resellers interested in learning more about the Business Edition 4000 communications platform.
The session includes a product overview, use cases, live demonstrations of deployment and management, and how to build a bill-of-materials.


Wednesday, July 11
3:00 p.m. – 4:30 p.m. Eastern
Agenda
30 min – Product overview, features and use cases
30 min – Live demonstration of deployment and management
15 min – Live bill-of-materials configuration
15 min – Q&A
A Cisco.com ID with partner-level access is required to register for and participate in this event. If you do not have a Cisco.com ID, you can register for one HERE.
If your Cisco.com ID does not have partner-level access, please contact your company's partner administrator or the Cisco Partner Relationship team at 1-800-GO-CISCO, option 5 > option 2 > option 1. You will also need a phone connection, an internet connection, and the ability to attend a WebEx session.
Questions? Please contact Gavin Critchlow, Comstor Product Manager for Cisco Collaboration, at 303- 566-2650 or gavincr@synnex.com.
CCW Training Offered Monthly by Comstor
Comstor is offering trainings throughout July and August that focus on Cisco Commerce Workspace (CCW). CCW is a powerful platform that allows users to browse through Cisco's full suite of solutions, create estimates based on user requirements and register sales opportunities for accelerated discounts.
The monthly trainings will focus on the following areas:
Steps required to get started with CCW
How and why to create a CCW estimate
How and why to register your opportunities in CCW
Maximize discounts by searching for quarterly promotions on Cisco.com
Comstor is excited for the opportunity to help you accelerate your Cisco business by leveraging the CCW platform. Register for one of our CCW trainings today to take your Cisco business to the next level.
Questions? Please contact Reid Scrimgeour, Business Development, Cisco Enterprise Networks at 303 222 4778 or ReidS@comstor-na.com.
Join us for Meraki360 Trainings
Comstor will be hosting a Meraki360 training on the first and third Wednesday of every month, through December 19.
Meraki360 is a half-day training program designed to get reseller SEs up to speed on Cisco Meraki.
You'll learn how to configure and sell the complete end-to-end solutions, including security, switching, wireless, and mobile device management.
Learn from our specially trained Meraki-certified instructor in a hands-on lab format while you configure and test real devices.
Click below to view the full schedule and to register.
Questions? Please contact Reid Scrimgeour, Business Development, Cisco Enterprise Networks at 303 222 4778 or ReidS@comstor-na.com.
Comstor JetStream 2.0 for Managed Services
Predictions have the Managed Services market reaching $258 billion by 2022. Value-added resellers (VARs) that offer Managed Services create recurring revenue models with higher gross profit margins. Multiyear contracts stabilize revenue and increase the valuation of a Managed Services business. It's a no brainer, right? Not so fast.
There are a few things you need to consider before you go down that road. To be an effective provider, you need everything from a network operations center (NOC) to cyber offerings and much more. So, the big question when it comes to creating a Managed Services Practice is: Do you build, buy, cobble or partner?
To learn more Managed Services, please click below.
Comstor Progression Programs for Reseller Partners
Comstor Progression Programs offer the enablement that partners need to support Cisco architectures. Programs currently available through Comstor focus on security, enterprise networking and collaboration.
Comstor Security Initiative (CSI) is the industry's most comprehensive security practice development program. Comstor Surge focuses on Cisco DNA, network automation, solutions, and partner success. Comstor Evolution focuses on integrating the Cisco collaboration into your portfolio.
Please click here to learn more about the Comstor Progression Programs.
Dynamic Bundling with Comstor
Now is the time to take advantage of dynamic bundling to benefit to from volume discounts – and Comstor has the right tool for you to register your ENG and Security deals. Comstor is the only distributor offering this bundle for security.
If you have routers and switches on a current deal, you will get discounting. Add wireless on top of that and discounting increases. The more you add, the deeper the discount. All of this is transparent as you add and move items along, and completing in a quick manner that registers the deal with Cisco.
Comstor is also offering partners the ability to earn a $100 gift card for working within and creating registered deals within the Dynamic Bundling tool. Get some quick cash for a short amount of time, while generating more discounting on your opportunities. Contact your Comstor Account Manager for more details.
Comstor Offering Security Discount
Comstor has announced a new Security Discount Promotion, exclusive to its partners.
Comstor makes it easy and enticing: The more you bundle within the Security field, the bigger and better the discount you get.
Please contact your Account Manager, Business Development Manager, or the Comstor Security team at CSI.us@comstor.com.
Partners can also check it out live by clicking here. You will need to use you CCO ID to login and to take advantage of the deep discounts.