Delivering Revolutionary Cloud-Managed Wi-Fi Services
Mojo Networks is revolutionizing Wi-Fi through the power of the cloud and open standards. Mojo liberates networks from proprietary hardware and utilizes the full power of the cloud to deliver cognitive Wi-Fi: a self-driving network that makes things remarkably simple and reliable at massive scale. The company's innovations empower IT with better user experiences, more options and more velocity – all at much lower costs.
Why Partner with Mojo Networks and Westcon UCC?
With Mojo, Westcon UCC resellers have the unique opportunity to offer an enterprise-grade solution that is innovative, simple, secure and scalable. We invite you to redefine WiFi infrastructure with an architecture that powers Fortune 500s, Global 2000s and the highest levels of government. In return, you can expect support from a highly responsive team, access to cutting-edge technology, and total commitment to partner margin.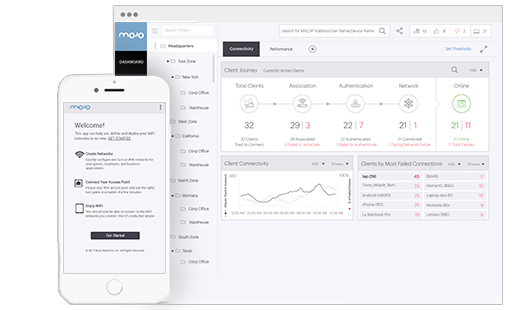 To put Mojo Networks' solution to work for your customers, please contact Eric Baab, Westcon's Mojo Networks' Product Sales Manager, at 630-723-0240 or eric.baab@westcon.com.