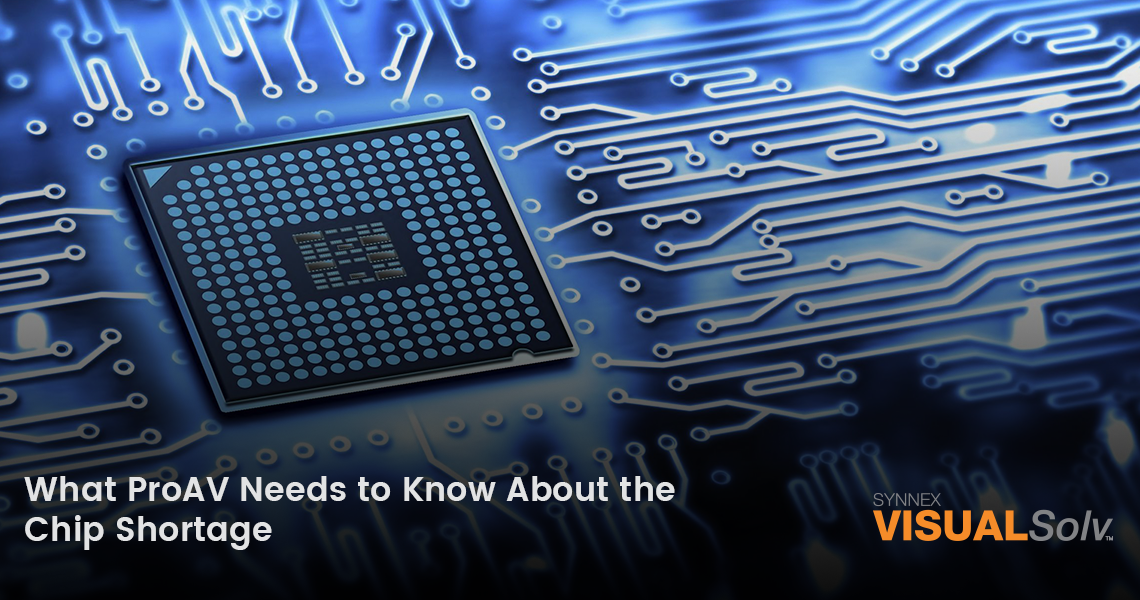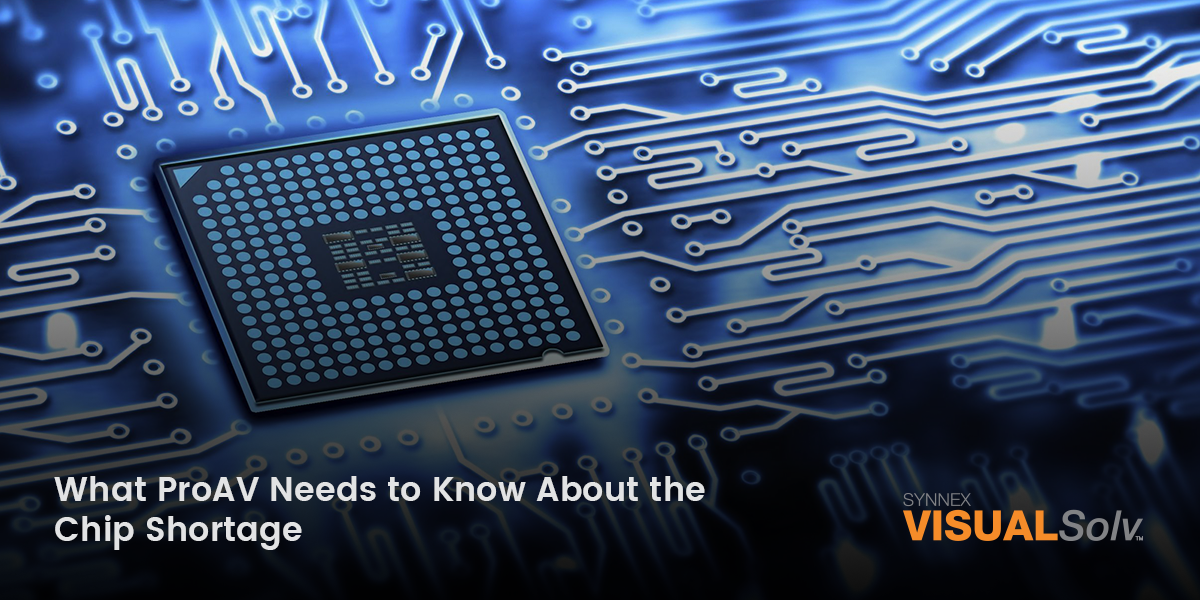 Today, global chips, or semiconductors, are used for much more than just memory storage. You can find semiconductors in practically every electronic or connected device, whether in computing, auto or power. As you may already know, however, we've reached a point where the demand for semiconductors is outpacing the global supply. The number of chips, and related components, being produced isn't keeping up with the number of chips the world demands.
Why this matters: The effect on supply chains, including for professional and consumer electronics, will soon trickle down to industries like ProAV. Forrester research director Glenn O'Donnell pointed out this "ripple effect" on other markets in ZDNet: "Given the omnipresence of semiconductors, it is effectively the entire economy that is at risk of the secondary effects of chip shortages."
So how did we get here? There are numerous factors at play in the shortage. COVID-19 led to surged sales in electronics used in the home. Sanctions and trade tensions between the U.S. and China have led Chinese companies to hold onto mass quantities of chips and related equipment. Sandi Stambaugh, vice president, product management at SYNNEX, notes that the current supply chain issues make up the "perfect storm of distribution woes that have been felt for the better part of a year," reported Commercial Integrator, "also [including] reductions in manufacturing and shipping workers and fires at several key factories."
What this means for ProAV is that the effects are not far behind. Supply chain pains could be felt as early as summer 2021, impacting professional AV products and related components, like display drivers and integrated circuit (IC) controllers.  Many affected products are those with a screen on both the commercial and consumer side: phones, laptops, digital displays, gaming consoles, and even microwaves — which all require semiconductors to operate.
Notably, heavy impacts will likely be felt across professional-display markets (e.g., high-brightness LCD video walls, LED displays, and more). Some chips are also used in the most popular projectors, lighting systems, mixers, speakers, and DSP-based products. The more obvious effects on ProAV would include price hikes, supply shortages, and shipping delays. But the increased price of displays, and a subsequent reduced profit margin on ProAV display manufacturers, is another possible reality.
"The magic in an AV system comes from the glue — the hundreds of signal processors, switchers, adapters and converters that make all the sources work with the displays. Some of these are inside the monitors, projectors, speakers, lighting systems and LEDs and some are external," explained Gary Kayye of rAVe [PUBS]. "There are usually dozens — if not hundreds — of them in a typical system when you count up all the 'black boxes' that connect video, audio, control, networking and single management together. Well, nearly every one of these little boxes or converters has a programmable chip of some type inside of it that drives it. Without these chips, you can't build them … as there's no glue."
Now that we know how we got here, let's talk about what ProAV can do about it.
How Can ProAV Get Ahead of It?
The semiconductor industry is looking at a multi-year shortage and needs to prioritize building the infrastructure to ramp up production. Intel recently said it will spend $20 billion making new chip factories and expanding facilities. Samsung's pledge followed shortly after. Nvidia, best known for its AI solutions and creating the graphics processing unit (GPU), launched Cryptocurrency Mining Processor (CMP) graphics cards to alleviate chip shortages for gaming. Taiwan Semiconductor Manufacturing Co. (TSMC) pledged $100 billion to grow capacity.
The trouble is, building new facilities takes time. So it's important that the ProAV industry prepares as soon as possible.
Our biggest advice, as of today, is to start having conversations with your vendors and partners. Don't wait. Discover where you can secure backups for your products. Then look at securing backups for your backups. Here are three additional steps you can take or, at the minimum, keep in mind:
Control what you can. Much of this is out of AV integrators', dealers', manufacturers', and distributors' control. We cannot expect chip stock to rebound as demand remains high. What we can do is set expectations and communicate to customers early and often. Something as simple as a website update is something you can prepare for now to control the narrative, setting customer expectations ahead of time.
Set expectations, proactively. Communicate to clients the realistic wait times for products, and share any alternative options with them — like different versions of products, options from alternate suppliers, or a similar product with different specs.
Explore your "pivots." If ordering in advance and holding inventory, whether because of warehousing space or financial setbacks, is unrealistic, explore bringing on a partner such as a distributor. If you already work with a distributor, go ahead and have the conversations with your distributor partner about supply. (Distributors use these conversations to plan too.)
"Folks need to make sure that they're not just looking down at the one project in front of them and they're actually looking up and at what they need for the next three to four months," Stambaugh continued. "We're trying to work with [integrators] to get ahead of [this] as much as we can."
"The good thing is there's more than one way to design an AV, UCC and Digital Signage system — but that requires either foresight or time," Kayye said. "Hopefully you now have a reason to at least plan for the latter."
SYNNEX VISUALSolv unites the industry's top AV, IT, and CE technologies to build the cross-functional solutions our partners need. We help AV/IT navigate the complex realities of ProAV, digital signage, physical security, collaborative communications, and more — then find a path forward to help your business thrive. Get in touch with us here.