Demand for increasingly connected, intelligent experiences is driving the need for more cohesive physical security solutions. SYNNEX VISUALSolv unites the industry's top surveillance, access control, cloud, and secure network infrastructure to build the cross-functional solutions the market needs. Leverage our broadline capabilities, technical expertise, and personal service to enhance your business. ance
Fixed and Mobile Surveillance
It's our goal to take complex technologies and make them simple by reducing the potential need for additional infrastructure or multiple partners to produce a successful, complete business solution. Our solutions include rack equipment, POE switches, IP cameras, and NVR/recording.
SYNNEX is aligned with the industry's top manufacturers to provide core technologies for multiple solutions. With our industry-certified technical support and seasoned sales teams, we offer our expertise as a resource for you.
See below for the SYNNEX advantage in the surveillance market:
Fixed:
We carry a comprehensive line card of the top camera vendors
Better relationships on networking and storage
Education webinars once a month

"Surveillance 101" 5-part series
Vertical-based trainings
Mobile:
Mass transit, pupil transport, law enforcement, first responders, trucks both on and off-highway
Camera and mobile data terminals
Data transfer over mobile remote locations
Can utilize traditional cloud storage
Questions? Contact us at securitysales@synnex.com.
Security Partners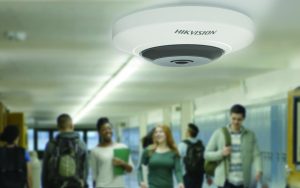 Hikvision is a world leading manufacturer and supplier of security products and solutions. Featuring an extensive and highly skilled R&D workforce, Hikvision manufactures a full suite of comprehensive products and solutions for a broad range of vertical markets. In addition to the security industry, Hikvision extends its reach to smart home tech, industrial automation, and automotive electronics industries to achieve its long-term vision. Hikvision products also provide powerful business intelligence for end users, which can enable more efficient operations and greater commercial success.
Hikvision offers innovative video surveillance solutions for projects of every size: single camera to enterprise and everything in between. Because our dealers' businesses come in all sizes, the Hikvision Dealer Partner Program is tailored to suit your individual needs. We have built a multi-tiered program of Silver, Gold, Platinum, and Diamond levels, with each level building upon itself, adding more and more benefits that you can take advantage of as a Hikvision Dealer Partner (HDP).
Contact Synnex Business Development Manager, Preston Black, to become a partner today and visit us at www.Hikvision.com to learn more.

TRENDnet is invested in the success of our most important asset: The dealers that represent and promote our products every day! Sign up today and take advantage of the significant benefits that TRENDnet's upTREND Program offers. Benefits Include:
Improved Profit Margins, Dedicated Sales Support, Online Real-Time RMA and/or Advanced Replacement, Level 3 Technical Support and our 30% off Demo Program
To discover the potential of TRENDnet partner program and sign up, please contact TRENDnet's Regional Account Manager Bob Morgan at b.morgan@trendnet.com or simply click here to sign up directly!