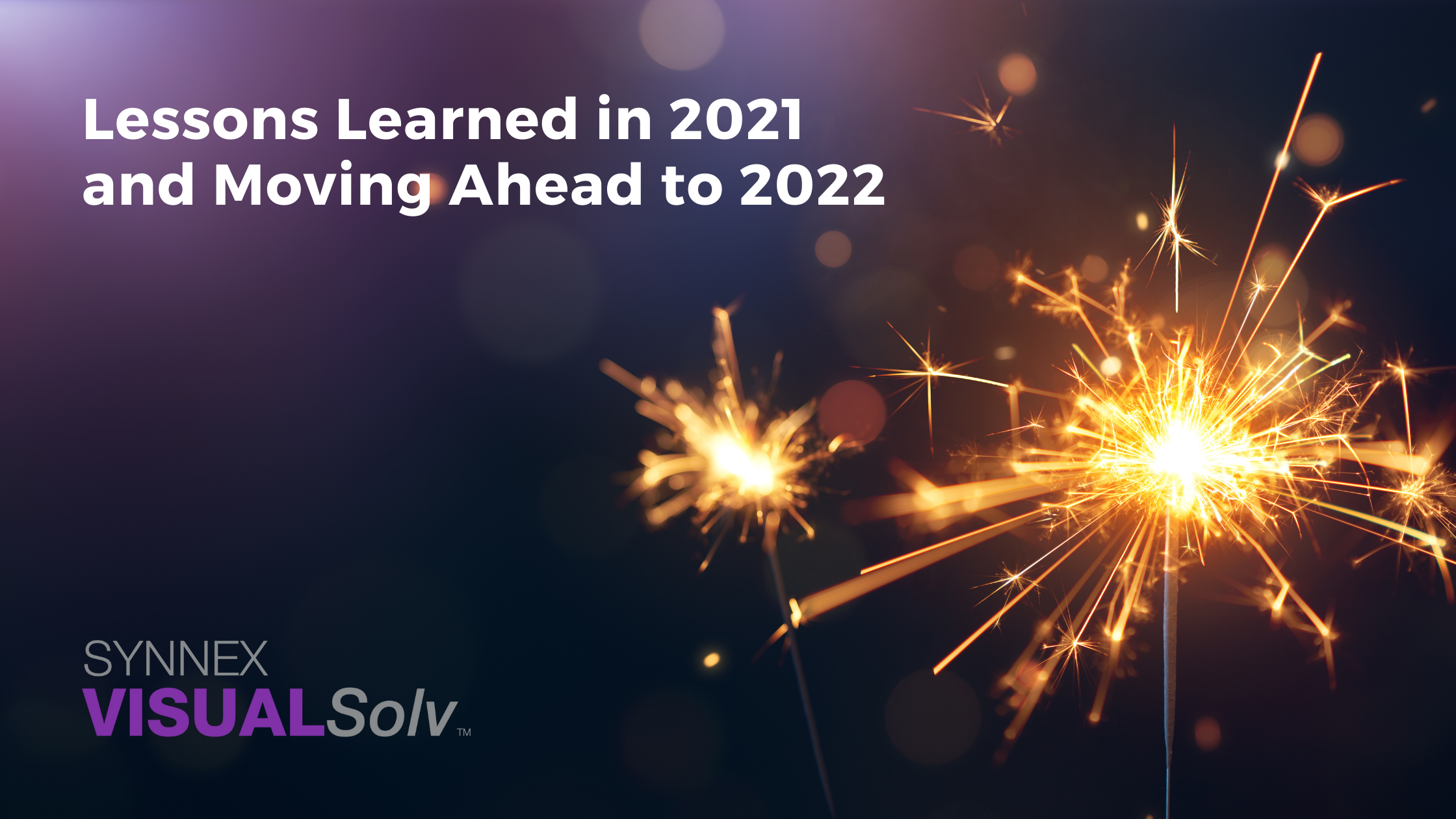 Dealing with the (ongoing) pandemic in 2021 has been no small feat for businesses. The challenges cut across all sectors in a variety of ways. While some organizations profited from the changes, the disruption in the day-to-day supply/demand balance presented its own issues even for them. It wasn't a typical year. But look at it this way: The key to future successes lies in learning from these challenges and planning and responding to the present landscape in 2022. It felt like much of life was still on hold this year, but there were many arrows pointing in new directions. From the new ways in which we worked and  dealt with other businesses, we all navigated the pivots and the hollows, found workarounds and identified new opportunities. Here's a quick take on how we got here and what we should be looking to do in 2022 to advance the way AV can unify communication. 
What We Learned in 2021: Blending
The key word for AV in 2021 is "blending" — integration, if you will. Lines that were once clear became blurry as more holistic solutions were sought. Using AV to enhance communication became an "and" for the entire planet. Online and in-house. Virtual and in-person. A blend of hardware and software. Static and interactive. 
Work Came Home
In 2021, when we realized that our temporary home offices of 2020 were becoming quite permanent for the foreseeable future, we began to accept this as the norm and in many cases, enjoy it. There was a great exodus out of cities and into the suburbs as workers searched for more space. We beefed up our cameras and our microphones and even changed the acceptable videoconferencing dress code to include hoodies and ball caps. We were home and working. 
This blending of work and home spilled over to the technologies we use to visually communicate. And while AV was already starting to take its rightful place as a critical player in everyone's communication strategies leading up to the pandemic, it was now thrust into the limelight as the tool that made it possible to keep many businesses and organizations going in difficult times. 
Downturn in Business Led to Downtime Opportunities
While many sectors of AV dealt with the reality of decreased revenue, supply chain issues, staffing reductions and projects being put on hold, the largest lesson to be learned was about being flexible and finding solutions to problems that were uniquely brought about by COVID-19. Just when we thought we were going to be back into a "normal" routine, the delta variant hit like a ton of bricks, and there it was again, continuing the struggle for many to merely have products available, reach audiences and staff businesses. 
As old revenue streams dried up or disappeared, companies got creative and found new revenue streams. Training and certifications exponentially rose as many businesses experienced the downturn. The downtime presented opportunities to hone skills and get certifications for skill gaps in areas such as livestreaming and IP networking. While many companies had to pare down staff in 2020, 2021 brought a need to re-skill the workforce for what would become a huge ramp-up when business returned in its new iteration. 
Companies now had time to take a closer look at their operations. Many were able to improve infrastructures and complete some of the overdue projects that had been lingering on the to-do list when business was booming. 
Moving Ahead in 2022: Embrace Change and Capitalize on it
So, what really changed and how can we use this intel to improve AV communication solutions for enhancing the user experience?
1. Reassess the new reality
If your business model hasn't changed in some way over the course of the last few years, you missed the lessons that the challenges provided. In every sector, the modifications made during the pandemic led to some type of innovation. You've no doubt developed your budgets for 2022 and have hopefully included new ways to capitalize on the changes brought about by the pandemic. 
The biggest change to be universally addressed in 2022 and beyond? Users. 
Users have changed and so have their expectations. They want to be able to transport their work-at-home tech and gear to their office environment as they head back to a physical building. Users will carry the expectation of integrated visual experiences not just to offices but to schools, museums, stores, hotels, sports venues … the list is endless. They've been forced to zoom into the 21st century, they've adapted and they like it. Now they'll expect to be able to have remote meetings on a whim. Or use an interactive display at a museum or a hotel or a store at the mall. They want experiences that are targeted and personal. 
Regardless of your business, you will need to provide a COVID-safe environment in all AV arenas. Physical security is on the front burner, and that too provides opportunities for AV integrators. 
Take advantage of this new awareness and reliance on AV products and services. The AV industry has proven its worth. It's now officially recognized as being just as critical to businesses as the IT infrastructure. Enhance your portfolio to include more user-centric solutions. 
2. Embrace the universal hybrid 
A hybrid event may have slightly different definitions depending on who you talk to, but most people agree that it's a blend of two discrete ways of delivering information or communication. For live events like meetings, conferences and the stage, it's livestreaming or making a remote component available. The experience for the remote audience will need to be enhanced so it is just as exciting and "real" as it is for the people attending in person. Simply providing an option for audiences to attend virtually won't suffice anymore. The emphasis will be on the virtual users' experiences, and interfaces will need to be seamless. While there's nothing like an in-person event, the remote option is here to stay and the experience needs to be much more like reality than it has in the past.
3. Digital signage, digital art, digital everything 
Keywords? Immersive, interactive and amazing. People are delighted by the "wow factor" of AV. 
The impact of digital communication on the world in 2021 was critical. The trend toward interactive displays and the rise in new markets such as esports are just two applications that show how integrated digital products have become. The digital world spread to the outdoors in a big way and will continue to do so in 2022. Digital art has come into its own and as display technologies advance, there is no end of possibilities in sight. Healthcare and education markets have new ideas and needs for AV solutions that far surpass what's been offered in the past. Here's a quick example: "Wait marketing" in medical offices and banks can add significant revenue for all parties. Integration of machine learning and appropriate programs could create targeted ads for someone sitting in a doctor's office. Or on a bus or on a train. Think of the possibilities!
4. Integrate the "soft" side of AV
The AV industry has typically thought of itself as a hardware seller. Those days are gone. Service is a recognized component of the customer relationship. It's time to recognize that software is just as important as hardware and to capitalize on that fact. There are a multitude of ways an AV company can integrate software into their business offerings. 
—–
SYNNEX VISUALSolv is dedicated to supporting our valued partners in expanding their opportunities in digital signage, UCC and beyond. Reach out to us here for more information on how to leverage opportunities and maximize your value to your customers.