It's still education-buying season for professional AV integrators and resellers. What have you learned about education-buying season so far this year? Have you stocked up on all the products you need?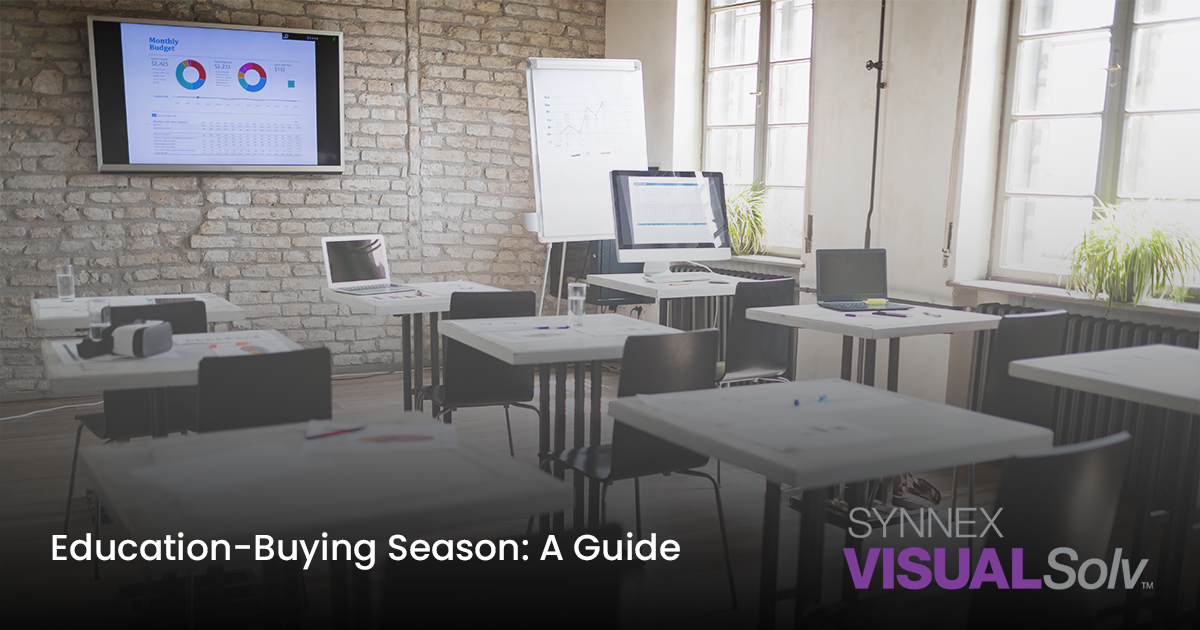 Tip #1: Assess Classroom Needs
Classroom technology is complex and diverse, even though the naked eye doesn't physically see the half of it. The top client needs in this year's education-buying season have included, so far, hybrid learning hardware and software, cameras and mic arrays for streaming lectures, and network-security equipment.
Hybrid Learning: Recently, AV/IT admins have transitioned to hybrid and remote learning due to today's climate. Thankfully, hybrid collaboration in K-12 and higher education isn't so different from collaboration in the enterprise. Particularly in higher-ed, learning and instructing can now take place both remotely and in-person, with professors lecturing over the same video conferencing platforms like Zoom, Microsoft Teams, Cisco Webex, and more. And, thanks to 4K and laser display technologies, in-person students can engage with content at safe

distances.

Action item for AV/IT: Check with your education customer to see their level of happiness with 1) their current unified communications & collaboration (UCC) platforms and 2) AV hardware, like video-wall displays, in-room speakers and future-proof display technologies. 

Collaboration cameras, speakers and whiteboards

: Various classroom-collaboration hardware could include 360-degree cameras (e.g., Jabra PanaCast), in-ceiling document cameras (e.g., Vaddio DocCAM), PTZ cameras for lecture capture (e.g., Vaddio RoboSHOT), and all-in-one audio systems (e.g., Nureva HDL300) that can pick up the sound in the entire room, no matter where students are sitting. Bring the familiar whiteboard (e.g., Logitech Scribe) into video classrooms, empowering remote students to actively engage in learning with teachers and peers.

Action item for AV/IT: Ask yourself, "Are remote students getting the same collaboration experience as in-classroom students?"

Security

: In today's digital classrooms, the number of connected devices is increasing. The network is the backbone of the K-12 and higher-ed spaces. How do we ensure it's secure?

Action item for AV/IT: A deep mid-semester or mid-year security checkup — even if the client hasn't asked for one — is never a bad idea.
Tip #2: Attend Industry Events
To stay on top of the must-knows in the education vertical and gain valuable product training, check out these upcoming industry events:
Keep On Keepin' On!
With the onset of COVID-19, integrators and technology stakeholders in education markets, in particular, had a tough job on their hands. When virtual learning was normalized, we learned that K-12 and higher-education classrooms could no longer be just remote-friendly but needed to be hybrid-first. Why? Because ensuring that both remote and in-classroom students have an equal opportunity to learn is the key to empowering educators — and inspiring students.
With a value-added partner like SYNNEX VISUALSolv, you won't just keep doing what you're doing, but will learn how to do it even better.
SYNNEX VISUALSolv unites the industry's top AV, IT, and CE technologies to build the cross-functional solutions our partners need. We help AV/IT navigate the complex realities of ProAV, digital signage, physical security, collaborative communications, and more. Get in touch with us here.