Dense Server Systems
There is no end in sight to growing data and computing requirements—which poses a serious challenge for space-constrained data centers. Also challenging for today's organizations is the need to perform a larger number and variety of functions—without increasing budgets. Designed with industry-standard components, this general-purpose platform enables users to create a flexible, mix-and-match offering. Customized solutions can be configured to provide application-appropriate platform with choice of servers, networking switches, adapters, and racks.
NeXtScale Chassis and Server Nodes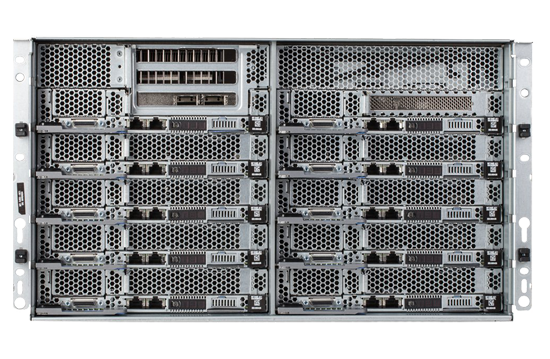 NeXtScale
NeXtScale System™ is the next generation of dense computing. It is an open, flexible, and simple data center solution for users of technical computing, grid deployments, analytics workloads, and large-scale cloud and virtualization infrastructures. The NeXtScale n1200 enclosure and new NeXtScale nx360 M5 server are designed to optimize density and performance within typical data center infrastructure limits. The 6U NeXtScale n1200 enclosure fits in a standard 19-inch rack and up to 12 nx360 M5 servers can be installed into the enclosure. With more computing power per watt and the latest Intel Xeon v3 processors, you can reduce costs while maintaining speed and availability.