Lenovo Smart Office Solutions
ThinkSmart View
ThinkSmart View is smarter technology
that will completely change how your
employees work from the moment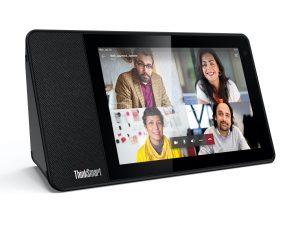 they start using it. This revolutionary
personal productivity assistant frees up
the PC from administrative tasks so that
employees can finally be fully productive
and fully collaborative at the same time.
Built on the user-friendly Microsoft Teams
platform, ThinkSmart View enables
employees to remain productive on their
PCs while this smart office device handles
videoconferencing, content viewing, and
more. From executive suites to remote
offices to common areas, ThinkSmart View
will transform how employees work alone
and together by providing a device that
works better, together with their PCs.
Click here for the ThinkSmart View by Lenovo announcement
Lenovo Health Virtual Rounding
Connect with patients face to face – even when you aren't
The Value of Going Virtual flyer
For more information, contact your SYNNEX Lenovo Team!
Kim Dillard – Lenovo Vertical Solutions Specialist – kimdi@synnex.com