Do you need help with your HP Printing?
With the advancements and innovations in HP printers, you may have questions on what to offer customers. Let your SYNNEX Printing Team help you better determine your customer's needs, while also helping you with your day-to-day business. With our comparison charts, carbon footprint calculator, and MYHP tool, our team can help you explain how HP Printing can save on costs while providing the reliability and dependability that only HP can offer.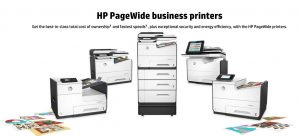 Click here to read more about HP PageWide!
We have built a dedicated team to help partners better understand the HP channel world and profitably model to sell more printers and supplies.
To learn more about SYNNEX Printing programs including trainings, national promotions, sales promotions, and marketing programs, please contact the SYNNEX HP Printing Business Development Team.
Michael Winter | 864-349-4486
Jennings Tinsley | 864-349-4784