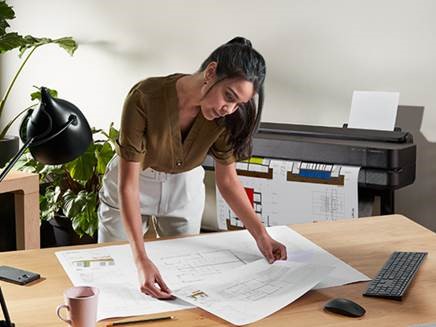 Think big! Print easy!
The latest HP DesignJet printers integrate seamlessly into the way you work and save you time from initial job preparation through final printing. They are tailored to fit within your workspace, with a more sustainable design and with the capability to print from virtually anywhere.
HP DesignJet Studio Printer series
With design that performs and technology that stands out, the world's easiest large-format plotters6 fit the way you live and work. Print multi-size projects automatically. Avoid waiting with high-speed printing as fast as 25 sec per A1/D plot.7
HP DesignJet T600 Printer series
This is affordability without tradeoffs in the world's easiest large-format plotters.1 Extreme simplicity helps you save time and print with confidence. Use up to 95% less ink for routine maintenance.2 Save time from job prep to final print.
HP DesignJet T200 Printer series
Designed to fit your office, budget, and the way you work, the world's smallest plotters3 provide extreme simplicity. Send multiple files in one click.4 Avoid waiting by the printer with high-speed printing as fast as 30 seconds per A1/D plot.5
Just look at what we have to offer!