Drive student learning and increase engagement
No matter where a school is in its digital transformation, Samsung has the partnerships and solutions to help successfully implement 1:1 learning in the classroom and beyond – meeting the needs of students, educators and IT. Over 8,000 schools in the U.S. have worked with Samsung to reduce cost of ownership and barriers to adoption of all things digital by helping deploy instructional tools and resources that are simple to adopt and help students succeed.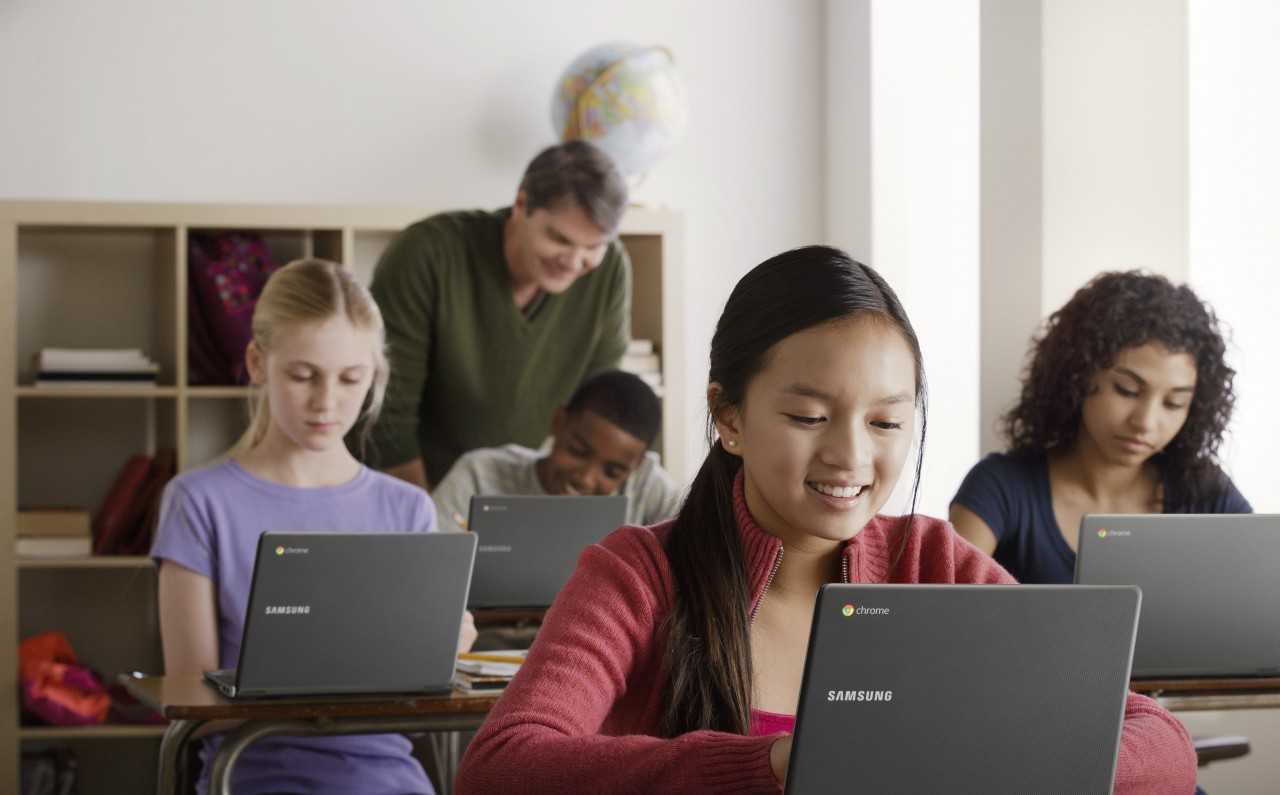 Click here for a quick overview on how your education customer can plan and implement a digital transformation in their school.
Samsung K-12 Education Solutions Portfolio
Samsung Convert to Chrome™
Samsung partnered with Neverware's "CloudReady" OS to help schools make the conversion to Chrome by stretching the budget with a multiyear implementation without having to replace existing resources. Learn More
Samsung Classroom in a Box
Classroom in a Box is for schools looking to jump-start 1:1 digital learning programs in their classrooms with immediate use of the Chromebook 3 with the integration of McGraw-Hill Education® curriculum, Google ™ licenses, and comprehensive professional development. Learn More
Samsung Chromebook™ Collaboration
Chromebook Collaboration was developed with teacher-trusted SMART Technologies. SMART's amp-enabled Samsung Chromebook 3s, Google licenses, and online professional development allow students to co-create content on a shared digital canvas. Teachers love the ability to enter SMART's Exchange community and access the truly awesome teacher-created free resources and lessons.  Learn More
Samsung Lab in a Box
Lab in a Box integrates STEM curricula into classrooms, labs, and after-school programs. The STEM Fuse Pack provides real-world, project-based interactive online curricula using the Samsung Galaxy Tab E. This solution is designed as a lab on a cart and includes professional development.  Learn More
Customer Reference: Groveport Madison School District
Hear administrators, teachers and students at the Groveport Madison School District near Columbus, OH describe their experience with Samsung Chromebooks.  Watch Here
Join Samsung's STEP Reseller Program
Samsung Team of Empowered Partners (STEP) is designed to drive our mutual success in today's increasingly competitive market. Our dedication to the channel begins with robust sales & marketing tools, extensive training & certification, and rewarding profitability programs.  Get started at partnerportal.samsung.com!
About Samsung
As a global leader in enterprise mobility and information technology, Samsung Business provides a diverse portfolio of enterprise technologies from smartphones to wearables, tablets, digital displays, hospitality TVs and printers. We are committed to putting the business customer at the core of everything we do by delivering comprehensive products, solutions and services across diverse industries including retail, healthcare, hospitality, education and government.  Please visit samsung.com/business or our blog insights.samsung.com.