Exceed All Expectation
Education is transforming, but the desired outcomes remain the same. Lenovo Education can help propel education initiatives further with a unique portfolio of cutting-edge IT solutions.
For partners striving toward impactful progress, Lenovo Education provides technology that easily aligns with strategies at all levels, from creating secure connections on a large scale to improving classroom orchestration for individual teachers.
Take Charge of Your Environment
Digital Support for K-12
Each K-12 district has its own unique needs, goals, and strategies. Technology can play a key role in how a multitude of moving parts work together to overcome challenges and emphasize successes. Having the right tools in the right hands can help empower your district from the central office to the classroom.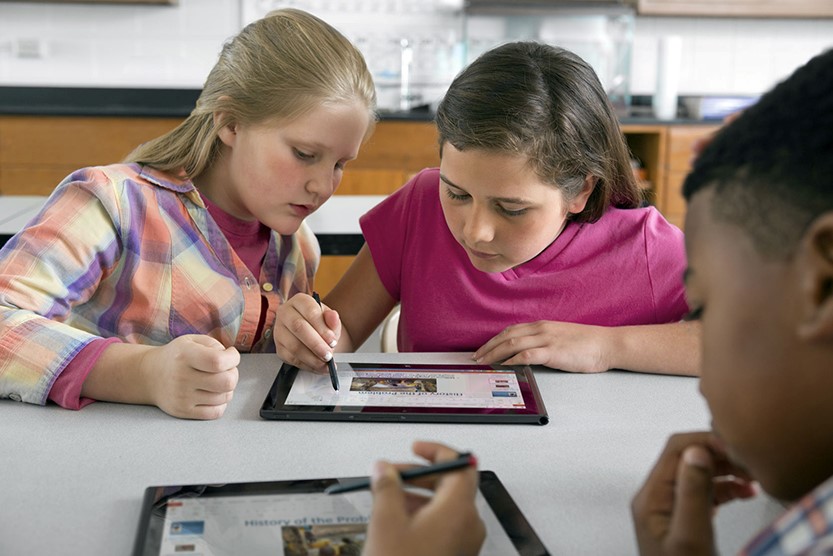 Make Smart Connections
Innovation for Higher Education
On higher education campuses, connections matter. Lenovo helps institutions of higher learning to forge secure connections that encourage student engagement, support professors, empower learning across campus, and make way for a successful tomorrow.
LENOVO SHAPE THE FUTURE & EDUCATION SOLUTIONS
Lenovo is proud to partner with Microsoft on their Shape the Future initiative which aims to advance society through education by putting technology in the hands of students and teachers.
Through this partnership, we are able to provide a select list of products at reduced rates for your K-12 public school customers. Lenovo's Authorized Distributors have been given special pre-approved pricing by Lenovo on these products.  This pre-approved pricing is more aggressive than our normal Topseller pricing.
Lenovo & Microsoft: Shape the Future Program
K-12 Education Rebates
What is the Shape the Future program?
Microsoft has partnered with key manufacturers including Lenovo to provide special pricing on select products for public and private K-12 schools. This rebate is NOT applicable to Higher Education such as universities and colleges.
How do I apply the Shape the Future Rebates?
This is manual rebate that resellers will not see populate on EC Express; instead, you will need to type "SHAPE THE FUTURE" in the SPA reference field. Be sure to check your SPA keep to be sure you are giving the entire rebate to your reseller so that they will remain competitive in the market.
What happens if we provide the rebate to an end user who is not a K-12 education institution?
If Microsoft and/or Lenovo discovers the reseller sold the product with Shape the Future rebates to an end user that does not qualify for the program, then Lenovo will have to recover the rebate from SYNNEX which may result in a charge back to the reseller.
Which Lenovo products qualify for the Shape the Future rebates?
| | |
| --- | --- |
| Part Number | Description |
| 81CY000RUS | 100e Gen 1 11.6 HD Display, 4GB, 64G EMMC, 1 Yr |
| 81M80003US | 100e Gen 2 11.6 HD Display, 4GB, 64 EMMC, 1 Yr |
| 81FY000SUS | 300e Gen 1 11.6 IPS Touch Display, 4GB, 64 EMMC, 1 Yr |
| 81FY000BUS | 300e Gen 1 11.6 IPS Touch Display, 4GB, 64 EMMC, 1 Yr |
| 81M90000US | 300e Gen 2 11.6 IPS Touch Display, 4GB, 64 EMMC, 1 Yr |
| 81M90001US | 300e Gen 2 11.6 IPS Touch Display, 4GB, 64 EMMC, 1 Yr |
| 20LQS00000 | Thinkpad 11e Gen 5 11.6 HD Display, 4GB, 128G, 1 Yr |
| 20LMS00000 | Thinkpad 11e Gen 5 11.6 MultiTouch Display, 4GB, 128G, 1 Yr |
| 10G9S01Q00 | M600 Desktop Tiny Intel J3710, 4GB, DDR4, 500GB,  SATA III, 1 Yr |
| 10M3S00600 | M715q Desktop Tiny AMD A6-9500E, 4GB, DDR4, 3 Yr |
SYNNEX GOVSolv WebinarsFor more information, click here
Would you like to learn more about SYNNEX GOVSolv programs such as SYNNEX GSA, Grants, Digital Navigator Tool, and more? If so, please email govsolv@synnex.com.
SYNNEX Lenovo Public Sector Resource
Terri Couch
Senior Lenovo Business Development – Public Sector
TerriC@synnex.com 800.456.4822 Ext. 494932