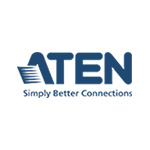 Simply Better Connections
Established in 1979, ATEN specializes in IT connectivity and management solutions, offering integrated KVM, Professional Audiovisual, and Intelligent Power solutions for small/home offices (SOHO), small to medium sized businesses (SMB) and enterprise customers. As a leading supplier of computer peripheral products to the Public Sector Markets, we also supply a variety of products to a broad range of Federal (DOD, Civilian and INTEL), State and Local Government Agencies.
ATEN products can be sourced on a diversified group of Federal and State & Local contract vehicles, and are procured through multiple Federal, State & Local resellers and integrators. Many of our products meet the stringent security protocols and compliance standards required by our public sector customers.
ATEN's NEW family of Secure KVM Switches includes the following key features:
Compliant with NIAP's latest Government Approved Protection Profile 3.0 for Peripheral Sharing Switch. This is a Common Criteria Certification.
TAA Compliant
Cables are not included with these models; however, ATEN also manufactures TAA compliant cables.
Inquire here about ATEN's line of KVM Solutions for Secure Government Computing Environments
All ATEN resellers selling to Government and Education end users are eligible for our 5% pre-approved government discount.
Take advantage of ATEN's Deal Registration program to receive up to a 10% discount!
Test our products by participating in our Eval program! Inquire here
Contacts and Helpful Info:
Email ATEN: sales@aten-usa.com
Visit www.aten-usa.com
Call your Synnex rep: 800-456-4822
Synnex GSA Schedule: https://www.synnexcorp.com/us/govsolv/pricing/
Upcoming Events
Federal Buying Season Opener
Aug 2
Washington, D.C.
Red, White & You…On the Road!
September 10-13
New Orleans, LA