Ready. Set. Go.
SYNNEX GO is an exclusive benefits program designed to help partners like you learn more about Google Cloud solutions and advance your cloud practice.
We've based our tiered program levels on set revenue and licenses sold performance metrics so you can enjoy unique benefits with each level and stack benefits as you progress.
Benefits include:
Exclusive event invitations
Training opportunities
Promotions
Marketing development funds
And so much more!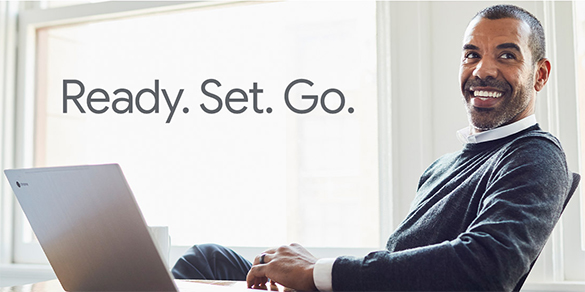 GET STARTED
Transact Google Workspace with SYNNEX
OR
0-2,999 Chrome Upgrade licences sold annually (EDU or ENT)
AND
Initial meeting with SNX/Google Business Development Rep
Survey participation
GET GOING
$1k – $9,999 in monthly Google Workspace revenue
OR
3,000-5,499 Chrome Upgrade licences sold annually (EDU or ENT)
AND
Initial meeting with SNX/Google Business Development Rep
Ongoing monthly meetings with Google Cloud Champion
Survey participation
GO BEYOND
$10k+ in monthly Google Workspace revenue
OR
5,500+ Chrome Upgrade licences sold annually (EDU or ENT)
AND
Initial meeting with SNX/Google Business Development Rep
Ongoing monthly meetings with Google Cloud Champion
Survey participation