Micron® 5300 SATA
Modernize, economize and maximize your data center with the world's first enterprise SATA SSD with 96-layer NAND, the Micron 5300 SATA series of SSDs. Micron® continues to advance its best-selling SATA solid state drives with enhanced security (added TCG Opal 2.0) and enterprise-grade boot drives, plus 8TB high capacity with extended reliability of 3 MTTF (50% longer than SATA industry averages). The Micron 5300 rewards your modernization efforts with high performance and consistency on a proven architecture. Enable strong performance for read-intensive and mixed-use segments: media streaming, BI/DSS as well as OLTP, block and object storage.
Micron® 5210 SATA
Read. Learn. Analyze. Act.
Equipped to challenge hard drives head-on, the Micron® 5210 ION is the world's first SSD to market* with quad-level cell (QLC) NAND technology – the next storage evolution that delivers fast capacity for less. Designed for the workloads of today and tomorrow – real-time analytics, big data, media streaming, block/object, SQL/NoSQL, and the data lakes that feed AI and machine learning – the Micron 5210 SSD accelerates analysis into action. Freed from the confines of hard drive technology, storage architectures can now move to speed and scale, enabling greater infrastructure flexibility and data intelligence.
*The Micron 5210 was the world's first QLC SSD to be shipped and sold (21 May 2018).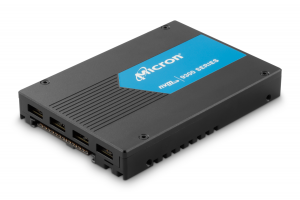 Micron® 9300 NVMe™
When microseconds matter.
Make no read or write compromises with industry leading random write latency and consistent read and write speeds of 3.5 GB/s.* Optimized for performance-critical workloads such as caching, database acceleration, OLTP, high frequency trading, block/object stores, and training/caching for AI and machine learning, the Micron 9300 SSD ingests and analyzes data at leading speeds. Featuring the latest NAND technology on the proven architecture of the Micron 9200, the Micron 9300 gives you an easy qual that's backed by the enterprise features you expect. When performance is everything, the Micron 9300 is your answer.
*Based on the best SKU in each NVMe high-performance product family's U.2 (15mm) form factor and information in public competitor data sheets accessed 1 February 2019. Actual performance may vary.
For memory-dependent server applications such as virtualization cloud computing, Big Data and HPC Micron DDR4 server memory is an ideal way to increase memory bandwidth and capacity while also reducing power expenses. Since memory often functions as a fixed (non-shared) component it's one of the biggest performance constraints for data centers. Maximize DDR4 memory capacity and achieve next generation performance and efficiency. Micron DDR4 memory is compatible with future Intel® Xeon® processor E3-1200 v3 and E5-2600 v3 product families allowing you to handle diverse enterprise workloads with ease.
The Crucial MX500 SSD/Micron 1100, 2.5" and M.2
Start your system in seconds, store up to 2TB of data, and upgrade with an SSD you can count on. Join more and more people who are keeping their family videos, travel photos, music, and important documents on an SSD, and get the near-instant performance and lasting reliability that comes with solid state storage. Upgrade with the Crucial® MX500 SSD, a drive built on quality, speed, and security that's all backed by helpful service and support. Even if you've never installed an SSD, don't fear – our step-by-step guide walks you through the process to make installation easy. It's worth it.
The Crucial BX500 SATA SSD
Add flash to your laptop or desktop computer with the Crucial® BX500 SSD, the easiest way to get all the speed of a new computer without the price.
Boot up faster. Load files quicker. Improve overall system responsiveness.
300% faster than a typical hard drive1
Improves battery life because it's 45x more energy efficient than a typical hard drive2
Micron® 3D NAND – advancing the world's memory and storage technology for 40 years