Every article or study — or article about a study — seems to tell you that the workforce is more collaborative, mobile, and team-based than ever. Yet according to the latest State of the Global Workplace report put out by Gallup, only 20% of employees globally feel engaged in the workplace.
For many office workers, a majority of work involves some type of collaboration (like videoconferencing, audioconferencing, in-person meetings, or instant messaging). Technology is allowing global teams, often in different time zones and markets, to stay connected. But it's not just about productivity; employee engagement is also vital to a company's success.
How do we ensure our unified communications & collaboration (UCC) technology systems are being used effectively, and contributing to employee happiness and engagement in addition to productivity? By listening. And by constantly evolving to provide better, more effective offerings that adapt to new workforce demands.
One of those demands stems from something we're hearing from our integrator and industry partners: Dealers share that, upon more workers returning to the office in 2021 and 2022, we'll start to see three primary setups for collaboration in the enterprise: focus areas (like small focus rooms or at-desk work setups), medium-sized spaces (like meeting rooms or huddle rooms), and large rooms (for executive meetings, large group gatherings, or client pitches).
A new bundled solution of Bose and HP collaboration solutions, an exclusive offering only through SYNNEX, is meeting the new needs of the workforce — a workforce that wants collaboration to be so seamless, no energy is wasted on navigating the technology. Each of the three bundles utilizes the best of Bose and HP to work with the unified communications (UC) platforms that end users are already using, like Microsoft Teams and Zoom. The bundles bridge third-party audiovisual (AV) technology hardware and software to help users be heard clearly in hybrid environments, with some workers remote and some in office.
Read on for the must-knows of these exclusive offerings — designed for small, medium, and large collaboration spaces. 
A Solution for: Focus Areas (1-2 people)
When you're working at your desk or in a small focus room, a personalized experience is key. This offering includes:
HP Collaboration G6 All-in-One Touch Display

: This 24-inch touch display with Intel UHD (ultra high definition) graphics offers anyone using the display an intuitive, personalized collaboration experience. Zoom Rooms — which you'll be using frequently with the monitor's integrated 88-degree field-of-view (FOV) pop-up camera — comes pre-installed.

Bose Noise-Cancelling Headphones 700 UC

: Bose knows how to turn any space into a collaboration zone. These headphones use powerful microphone and voice-pickup technology with noise cancellation to allow users to work without distraction.
Designed for use with: Zoom
A Solution for: Medium-Sized Spaces (2-10 people)
Medium-sized spaces, including huddle rooms and meeting rooms that fit a handful or two of people, make up a lot of organizations' working space. This offering includes:
HP Elite Slice G2

: This audio-ready conferencing system from HP brings unified communications into your collaboration spaces. Pre-installed conferencing software and one-touch control allow for impactful meetings, on demand.

Bose Videobar VB1

: The Bose Videobar VB1 promises the stunning sound clarity that comes with any Bose product. With the VB1, every meeting is an opportunity to create stunning work, while six beam-steering microphones and noise-rejection technology make conversations feel more natural.
Designed for use with: Zoom and Microsoft Teams
HP Elite Slice G2 + Bose Videobar VB1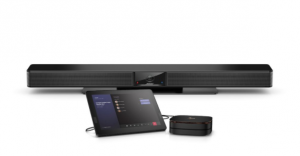 A Solution for: Large Rooms (10-14+ people)
When you're in the enterprise boardroom, audio and video display failure is not an option. This offering includes:
Designed for use with: Zoom and Microsoft Teams
Clarity and Intelligibility for All
SYNNEX COLLABSolv's latest bundle provides a conferencing solution for all setups and scenarios, whether you need a scalable conferencing system or a fully integrated collaboration space (or both!). With clear, intelligible audio and video, the collaboration experience — and employee engagement experience — is amplified.
Exclusive bundled solutions are just one of the ways that partners like SYNNEX provide value to technology stakeholders in an ecosystem driven by collaboration.
To help AV/IT build the integrated solutions customers need, we're committed to discovering new insights — and bringing competitive pricing — to help you make your complex voice, cloud, and video projects simple, cohesive, and lucrative. Learn more about our exclusive HP and Bose bundles, and reach out to SYNNEX COLLABSolv when you're ready to get started.