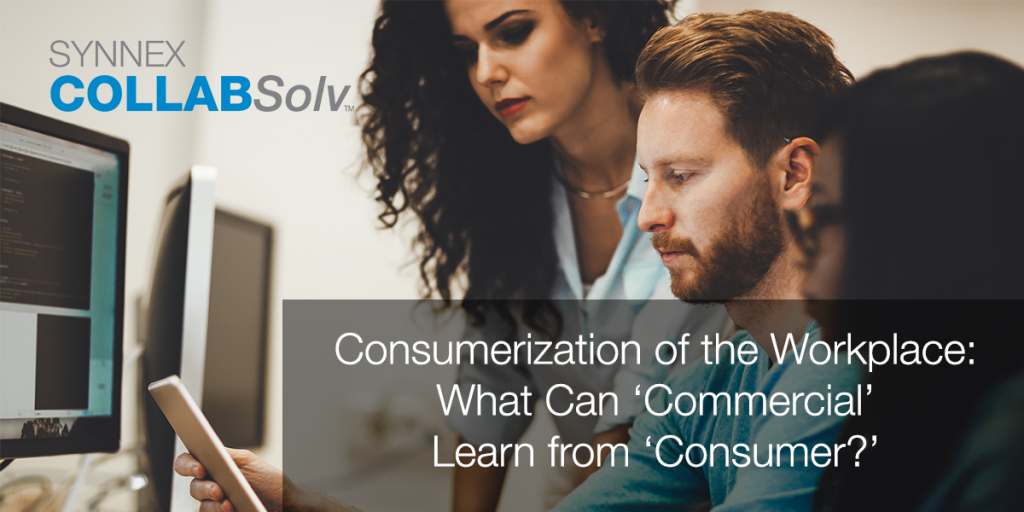 What can AV and UCC teams learn from the consumer side of things? A whole lot, according to professionals in the industry.
AV technologist Pete Coman, for instance, feels strongly that we are (or should be) more engaged in consumer technology every day in an effort to build smarter spaces. A decade ago, it was the opposite, he said; our commercial technology was influencing the future of consumer technology.
The shift is notable for anyone who works with collaboration technology today.
Coman, aka the "TEC MAN," is the Chief Technology Officer for PTS – People | Technology | Space, a digital workplace experience designer based out of New York City. He gets his insights from more than 30 years in design, installation, and programming of advanced technology systems.
"I have commercial clients requesting the latest consumer technology from the floor of CES for their offices and collaboration spaces," Coman said in the 2020 rAVe article linked above. "It will continue to be relevant for systems designers to follow the latest in consumer technology trends in order to stay ahead of the curve."
Need proof? Look to history, and consider what happened when employees started bringing in their iPhones to the office and attempting to use them for work before the process was greenlighted by AV/IT. Technology departments had to adapt — from both a security and user experience (UX) standpoint. Instead of turning away, enterprises built personal devices into the corporate workflow, giving users and employees more flexibility to communicate the way they wanted. This has further materialized as "bring your own device" (BYOD) technology in collaboration spaces, like meeting rooms, has since blossomed.
So when will the commercial side finally embrace technology coming out of the consumer side? That day is coming, AV and UCC professionals think, once we address the common obstacles.
Common Roadblocks
Coman and others agree: This isn't a new debate.
The industry has been having this conversation — whether commercial tech should be integrated into professional spaces — for more than two decades. It's only recently that questions such as, "When will voice control be a thing at work?" have become front and center. Technologies like artificial intelligence (AI), which can control everything from lighting to blinds, add flexibility and user control.
But two issues often arise in the minds of systems designers when it comes to integrating consumer tech into the workplace: simplicity and cost.
Integrating Alexa or Google (just two of many AI systems) with professional AV control systems, like Crestron's, does incur a cost. That said, doing so guarantees security and reliability — meaning integrators and designers gain full confidence in their deployments.
All in all, clients want to know which consumer devices, like AI systems, are smarter: Which ones learn faster? Which are more effective in the long run? To answer these questions and help clients integrate consumer devices for commercial use, it'll take hard work and top-notch collaboration among ProAV, AI developers, and manufacturers.
What Cues Can AV/UCC Teams Take?
Paying attention to what's happening in the consumer-technology industry can have a positive influence on AV and UCC. But where do we start in our journey to understanding? What lessons are to be learned? Do we all have to go to CES now?
Below are three tips to consider.
System simplicity is everything.
For anyone who designs spaces with technology to improve UX, it's key to choose solutions that draw in users in a friendly and familiar way.
The majority of systems aren't designed to talk to each other, Coman says. You need a hardware-agnostic software layer that'll bring it all together for a truly smart workplace. When designing, we have to learn as we go — like how a Tesla learns its user's preferences over time, getting smarter the more the car is used. The workplace should develop this same way, as an agile entity that constantly evolves with more data, and with the evolution of technology.
Always remember that the simplicity of the system is key: Any effort to merge consumer and professional technology must also be driven by a close relationship with the IT department. Once technologies are deployed, user training should be a given. Another unique idea: Try out small-scale deployments in your own workplaces first to identify where the system needs work.
Avoid tunnel vision.
The AV/IT industry is often so focused on technologically mature solutions that stakeholders who live and breathe it every day can have tunnel vision. There's an adjacent industry that AV and UCC can learn from to break away from the same ol' insights — and that's the consumer field.
Consider what tech hubs, like Facebook Reality Labs, are exploring in the future of human-computer interaction (HCI). Coman feels that augmented reality (AR), and the possibilities outlined in the Facebook video above, for instance, will transform the digital workplace experience. These types of activations put the human at "the absolute center of the entire experience," Facebook says, with the computer seamlessly integrated into users' day-to-day lives.
Find a partner who welcomes a challenge.
Is this a prime time to start deploying smarter devices (e.g., smart speakers and voice-enabled technology), like those already prevalent in our homes? Many feel strongly that it is. The technology is already there — so why aren't we deploying it in ProAV? Coman asks. Related to concerns of security, consider that we're already having private conversations in our work-from-home spaces with these devices turned on; there are now fewer barriers to bringing consumer solutions, which are both beneficial and frictionless, to the workplace to improve UX and employee happiness.
There's no black-and-white answer, but what's clear is that collaboration technology implementation needs consistent curation, maintenance, adoption training, and balance. What blend of remote and in-office meeting technology will make the end-user experience soar?
One step you can take is to find a partner that can navigate the complex waters — someone who keeps the latest AV and UCC insights top of mind. Part of SYNNEX COLLABSolv's mission as a distributor partner to the industry's top AV, IT, CE, Cloud, Mobile, and Network Security technologies is to understand how the market is changing. To help AV/IT build the integrated solutions customers need, we're committed to discovering new insights — such as learning how consumer technology can make commercial AV/IT better. SYNNEX COLLABSolv helps you make your complex voice, cloud, and video projects simple, cohesive, and lucrative. Reach out to us here for more information!
Special thanks for Pete Coman for the insights in this article.