SYNNEX F2F Inspire Conference 2018, Mentoring Panel Discussion
Listen to the SYNNEX F2F panel discussion on the value of mentoring, with Mike Van Gieson, Senior Vice President, Product Management, Michelle Rudnick, President, PCS and Calhoun Taylor, Manager, Business Development. The panel discusses what makes a good mentor, common challenges mentors face, tips for success and more. 
 
Girls' STEAM Night Out presented by SYNNEX F2F
SYNNEX F2F and Mauldin High School's FRC Flash Team #1319 hosted a Makerspace Girls' STEAM Night Out on August, 31, 2017 to inspire, empower and engage girls in grade 3 – 8. One of SYNNEX F2F's goals is to foster young girls' curiosity to explore and be inspired by STEAM programs, because girls are our future and we are confident that STEAM Powered Girls are the next generation of leaders. Supporting girls in Science, Technology, Engineering, Arts and Math is a key ingredient to promote higher education that will create a diverse and skilled workforce, and innovations in areas like robotics and the environment that will exceed what's possible today. The Girls' STEAM Night Out gave parents an opportunity to witness the enthusiasm of girls experiencing STEAM and think differently about how they inspire the young people in their life. To be STEAM powered Girls, parents' words of encouragement can be life-changing. #STEAMpoweredGirls
Discover the Art of Possible
Microsoft's Alyssa Fitzpatrick discusses life's defining moments, embracing work and personal demands and understanding the impact of culture to your journey.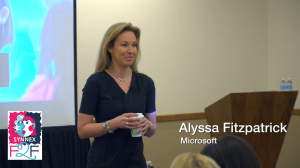 The unique challenges of integrating millennials into the workplace have been well explored. But what about the other side of the coin? Gen Y'er Patrice Thompson explores the issue from the Gen Y perspective. She charts the differences between Gen X and Gen Y, and maps out a few ways that organizations can create environments where workers of all ages can collaborate and succeed.
Reshma Saujani: Teach Girls bravery, not perfection
Watch this video to learn more about SYNNEX F2F Mentoring Excellence Program
7 Leadership Hurdles Women Face in the Workforce
Watch the SYNNEX F2F 2015 Inspire Conference Panel
Watch the 2013 SYNNEX National Conference F2F panel discussion with four IT female executives.
Listen to Sandi Hill, a 30 year IT veteran, describe how the four pillars of SYNNEX F2F influenced her career (National Conference 2012 Keynote Speaker)
Gaye Sprague shares with SYNNEX F2F members how her personal and professional relationships molded her life experiences (SYNNEX F2F Quarterly chat July 2013).
External Link:
__________
External Link: