Our History
In 1980, Bob Huang founded Compac Microelectronics, a company that eventually became SYNNEX Corporation. Decades later, Bob's entrepreneurial spirit is still alive as SYNNEX celebrates forty years of achievement and growth. 
Over the years, SYNNEX has grown from a small, components-only distributor to a leading hybrid distributor with a global footprint. Much of this success comes from our dedicated associates who embody SYNNEX' guiding principles of visibility, velocity, and value. These principles, along with SYNNEX' resourcefulness and entrepreneurial culture, are what make our company great.
We're very proud of SYNNEX' 40-year history and we're excited for what comes next!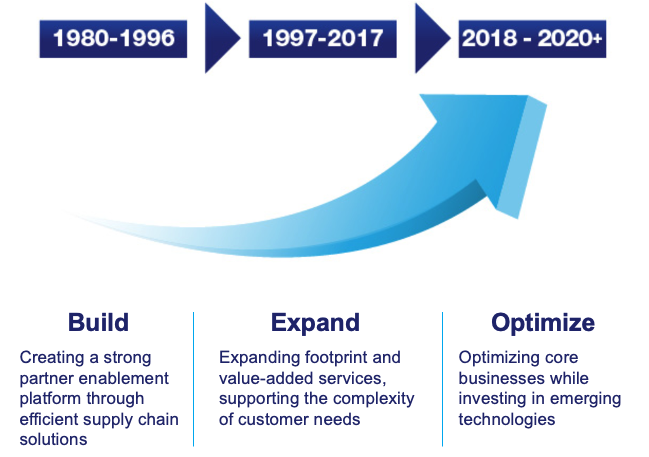 Interesting Facts
1980
Bob Huang founds Compac Microelectronics
1994
Company name changed to SYNNEX
Launched contract assembly services
1998
Became certified IBM and HP Channel Assembly Partner
1999
Opened Beijing, China BPO location
2000
Expanded U.S. distribution with new locations
2002
Launched Mexico operations
Significant US expansion
2003      
November 25, initial public offering on New York Stock Exchange (NYSE), ticker symbol SNX
2005      
Forbes Magazine ranks SYNNEX among America's Best Big Companies
2006      
IT consumables (office products) expansion
Opened Chengdu, China BPO location
2007     
SYNNEX debuts on the Fortune 500 List, ranking #360
2008     
SYNNEX ranks #350 on Fortune 500 List
Expansion of Concentrix US and Philippines locations
Opened new facilities in Greenville, SC, and Olive Branch, MS
2009      
Consolidation, expansion, and relocation of select US warehouses
Expanded CE division
2011      
Major expansion of distribution global footprint in Japan
Significant expansion of Concentrix
2017      
Significant expansion of security, networking and UCC business and expanded distribution footprint into Latin America
2020     
SYNNEX ranks #130 on Fortune 500 List
Celebrated 134 consecutive, profitable quarters on November 30
Acquisition Timeline
2018: Acquired Convergys
2017: Acquired Westcon-Comstor Americas
2017: Acquired Tigerspike
2016: Acquired Minacs
2014: Acquired IBM Customer Care Business
2013: Acquired Supercom (Canada)
2011: Acquired gem (Ireland, Hungary)
2011: Acquired e4e (India, Scotland, U.S.)
2011: Acquired Marubeni Infotec (Japan)
2010: Acquired Jack of All Games
2010: Acquired Encover, Inc.
2010: Acquired Aspire Technology, Ltd. (UK)
2008: Acquired New Age Electronics
2007: Acquired Redmond Group of Companies (Canada)
2007: Acquired PC Wholesale
2007: Acquired Link2Support
2006: Acquired Concentrix
2006: Acquired Azerty United (Canada)
2006: Acquired Telpar
2004: Acquired BSA Sales
2004: Acquired EMJ Data Systems (Canada)
2002: Acquired Gates/Arrow Distributing
2001: Acquired Merisel (Canada)
1997: Acquired ComputerLand